He that endures to the end
From a distance you could barely make out the blurred image of two people moving down the road. A police car with its headlights on low beam followed close behind them. All of the other runners had already completed the 10K race and were sitting around the outdoor tables set up at the Valley Race Park eating lunch and drinking cold drinks. "We asked them if they wanted to ride to the finish line, the officer standing beside me said. But they said no; they wanted to finish the run." I looked back down the road and I could make out a man and woman persistently making Share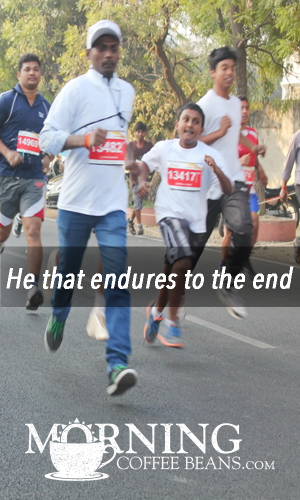 their way toward us, but they were no longer running, they were walking.
My husband and I were assigned to making sure the runners and walkers, participating in the annual 10K Run/5K Walk, went out and came back in safe. We were sporting orange vests and gripping orange flagpoles against the warm wind, while helping the policemen guide the traffic safely around the participants. By now I could see that the couple was a young girl and a man, who was probably her dad. They were advancing closer and closer to the end. When they finally reached out to our outstretched hands I couldn't help but think of a portion of a Bible verse I learned as a young person. "...He that endures to the end..." It is one I always pull to the surface of my heart when I need help finishing something that is difficult.
Completing a race is good practice for everything else we do in life, because it is important to learn how not to give up. That's what this girl's dad was teaching her, or maybe she was teaching him, or maybe they were just helping each other. Over a thousand other runners and walkers had already completed the race and didn't even notice when they came in, but that didn't seem to bother them. Their faces were wet with sweat and their breathing was labored, but they were proud of themselves and each other.
Affiliate Link
During a luncheon for Celebrating Women Pioneering the Future that week I met other women who talked about the rewards of never giving up. "If I gave up in my job, there could be children without food on their table or clothes to wear to school," one of the guest who works with the attorney general's office told me. Her job was to locate parents to pay child support. "It is a good feeling when you have worked hard to find a child's father or mother, and they finally agree to accept their financial responsibility," she said.
Another woman who was being honored at the luncheon told me that if she had given up when her boss told her to, she would not be the president and owner of her advertising company today. "I was told I was not good at advertising, she said. My boss advised me to pursue another career, but I was determined not to quit." Quitting was not an option for these women and it wasn't for the father and daughter team that finished last in 10K run either.
When I asked them how they felt about being the last two people to finish the race, the dad laughed and said, "Somebody had to be last. It might as well have been us." I could imagine that along the way, this young girl may have had to slow down for her dad to keep up, and maybe he tried giving her advice about being safe, nevertheless, they finished the race together followed by one faithful black and white police car that wore the sign "to protect and to serve," helping them to the end.
Previous Story
Next Story