Turn Your Light On
November 15, 2019
Previous Story
Next Story
On my Facebook page recently, there was a post about how the theology of "feel-goodism," "universal tolerance," and "moral relativism," which are the highlights of the New Age Movement.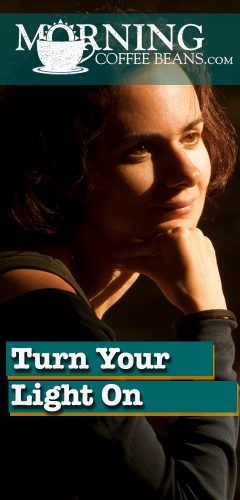 Another post about the new Hey-Google device that could be bought at Walmart and simply addressed as "Hey Google" to find the answers of encyclopedias gone by about the New Age, Allah, and Budda. However, Google does not recite the definition of Jesus. As a result of consumer concern, Google has disabled responses for all religious figures.
Additional posts included in our FB lives each day: those living in the dark, denying Christ, and how we should ban them from our daily lives.
Often times, I feel we spend more time exposing those that are in the dark, and less time letting our light shine.
I know there are people out there who want to suppress the very existence of God, the people who serve Him, and the powerful love that comes from His very existence.
My dilemma as a Christian is, what is my job? Do I spend my time exposing those who live in darkness, or do I spend my time celebrating those who live in the light, including myself?
I know what you are thinking. During the Passover, Jesus went to the temple in Jerusalem, made a whip of cords, and drove out the money changers who were doing business there. He said," Take these things away. Do not make My Father's house a house of merchandise!" John 2:16.
But what did He tell us to do? He said to them, "Go into all the world and preach the gospel to all creation." Mark 16:15, and then He instructed us to: "Let your light shine before others, that they may see your good deeds and glorify your Father in heaven." Matthew 5;16.
That is the question we must ask ourselves. Do we spend our time exposing those who are trying to discredit God and our Christian faith, or do we let our light shine as people of faith?
No, I do not think we are to be naive. I do not believe we should sit back and let evil take over this world. I do not believe we should be as lambs going to the slaughter. I think we're to be loving and kind in all our ways, as that will be an example of our Father. I think we should be strong. We should not give in to those who want us to give up.
Ben Carson, an American neurosurgeon, author, and politician who is the 17th and current United States Secretary of Housing and Urban Development under the Trump Administration, revealed he was under attack for having a Bible study in the White House. "We sometimes smugly say that we won the cold war with the Soviet Union, but it was Joseph Stalin, the Russian tyrant who said the United States could be destroyed from within by eroding three things; our patriotism, our morality, and our spirituality," said Carson. These things are currently under severe attack. We the people must decide who we are and what we stand for."
We should be wise as to those who are trying to deceive us. We should be bold when it is necessary, and we should not compromise our faith.
When you put all those qualities together with the love that Jesus taught us, we do not have to post other people's hatred of Christ on Facebook, because our light is stronger than any darkness that the enemy can manifest.
Besides, when people walk in darkness, even the bravest are afraid, but when the light illuminates a room, a situation, a heart, everyone is glad, even when they don't dare to admit it.