What Grieving Parents Feel at Christmas
Previous Story
Next Story
There was a quiet sadness that filled the room. Each mother there shared a special memory of her child. It was a comfortable place to be because it was all right to cry.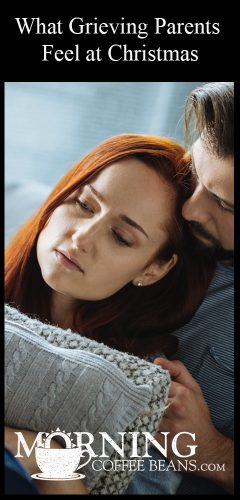 My friend had invited me to join her and a group of mothers who gather each Christmas to share memories of their children who have passed away.
Warm hands reached out for mine as I entered the group. I listened as they shared stories of their children. It had been longing for some since they had held the warm hands of their children, but the happy memories they had to share was as clear as if they experienced them yesterday.
This was a way of honoring their children during the holidays.
"I feel sadness during this time," my friend Susie said. "But it is not a sadness without hope, because as a Christian, I know I will see him again." Her son, Don Jr., died seven years ago, and she said sharing her memories of him is a way of including him in the holidays.
We could talk about anything we wanted. Some of the mothers talked about feelings of guilt they experienced this time of the year.
I understood because, for years after our two-year-old daughter died, I felt guilty that my other children were happy and still growing, and sometimes I felt guilty because I was thinking of her instead of being happy for what I had.
Being able to share feelings like there was like being in a safe place for just a moment with other parents. Susie brought each mother an angel ornament to represent her child.
While we were talking, a nurse walked into the chapel for a personal time of prayer. When she looked our way, we told her why we were there, and she joined us even though she had not lost a child.
A few minutes later, another woman walked in and knelt across the aisle from us. She was crying, and we thought she might be grieving too. When she stood up, we tried to speak to her, but she didn't speak English. Fortunately, the nurse, who had joined us earlier, could translate and tell her why we were gathered there.
She seemed to understand and shared with us the story of how her son had been in an accident and laid in a coma for the last few weeks. She began to cry again, and we thought he must have died.
But after a few minutes, she smiled through her tears and told us that her son had come out of the coma and was going to be alright. She had come into the chapel to give thanks.
It was good news, and each of us hugged this woman who had been a stranger only moments before.
Suddenly the sadness in the room was bearable. We were celebrating the life of a boy we did not know.
Later, when I reflected on the meeting, I felt it was all meant to be that way because we needed to see beyond our grief that day, and maybe she needed to see how blessed she was.
The holidays have a way of illuminating the difficult things in our lives. It is the loneliness of missing a loved one; for others, it is the lack of funds to buy presents or enough food for their children. These feelings can become unbearable when you are alone and feel that no one cares.
Mary gave birth to the Christ child in a stable. Not having a clean place to be born was sad, but his birth was joyous.
His life gave hope to all who came in contact with him. When he died, his mother felt the same sadness that every parent feels when their child dies, but it was not sadness without hope because she knew she would see him again.