A Child and a Flower
Previous Story
Next Story
The little town where we lived outside of Augusta, Georgia, was very small. There was an elementary school, flower shop, bank, minute market, family-owned restaurant, and many churches. We knew just about everyone in the community, and everyone knew our youngest son.
He was a friendly child with whitish blonde hair, always zipping around the neighborhood on his red bicycle. Every morning during the summer, he would get dressed, and off he would go for his morning ride. In his travels, he often stopped and talked with our neighbors.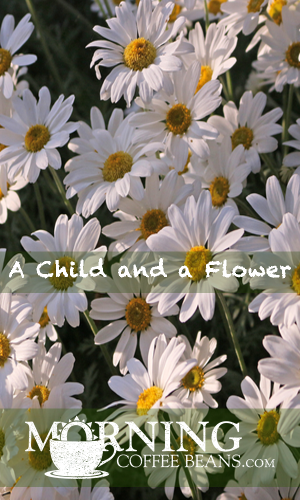 One morning, after being on his bike for a while, he came in and asked me for a dollar. "What do you need a dollar for?"
"I want to go to the flower shop, " he said. The flower was about a block away from our house. After that, he often went with me when I would stop and buy some seasonal flowers for the table.
We could buy a bouquet for only a dollar. I figured my son would buy some for me, so I waited for him to come home with his hand full of daisies-my favorites.
After a little while, I saw him peddling towards the house, but instead of stopping, he dashed right on by without even glancing my way. In his hand was a beautiful Shasta daisy.
I wondered where he was going, and I watched as he parked his bicycle in our neighbor's yard down the street. We didn't know them very well. They were an older couple who kept pretty much to themselves.
He told me he had taken the flower to our neighbor when he came home. "That was sweet," I told him, "but what made you think of that?" "I heard someone say their son had died," he said, "so I thought I would take a flower to them."
Later, I talked with the neighbors, who told me it was their son's birthday. He had died the year before. It was a painful day for them. They were in their living room, grieving, when they heard a little knock. They opened the door, and a little boy was standing there, holding the beautiful daisy in his hand. He said, "I'm sorry that your son died." The neighbor told us it was the most encouraging thing they had felt. They said it felt like their son was comforting them.
I was fascinated that my 6-year-old son would think of something so important on his own. But it isn't surprising that children can often demonstrate to us the kindest ways to comfort others. When people are hurting, we often think we have to offer them advice on how to get on with their lives or do something big to let them know we care. But a child with a flower and a caring heart is sometimes all they need.