Barefoot Summer
Previous Story
Next Story
Our bare feet grew tough, our hair turned to gold, and our bodies browned and freckled in the sun that pursued us on long hot summer days.
Across the dirt road where we lived, there was an old abandoned building. Bushes, high grass, and broken tree limbs hid it from the road,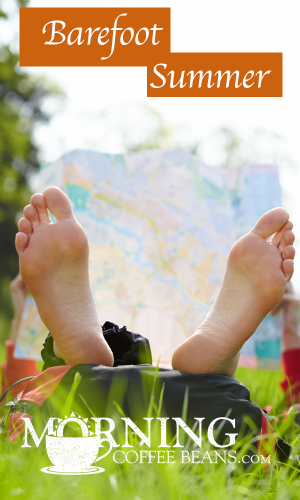 but we found it and made it our secret clubhouse.
We swept the dust from one side of the room to the other and put a cardboard box in the middle of the vast open space for a table and cement blocks around for chairs.
We hid our peanut butter and crackers from critters that we were sure came out when we weren't there underneath the cardboard box table.
I was the youngest girl in our family, living at home with four brothers at the time. I followed them everywhere that summer.
I learned how to climb trees, jump big gullies, make swords out of pine limbs, find arrowheads on flint hill, and run almost as fast as they could.
There was one thing I learned to do better than them; that was to whistle through my fingers.
They would put their two little fingers together in a point, place them on the tip of their tongue, bring their lips down, and blow, but there was nothing but a little bit of a slur when the sound came out.
I could do it, and it was clear as a bell. I was so good at it that when other boys in the neighborhood visited my brothers, they would get me to whistle for them. I had the best whistle on our little dirt street. I guess it was because I could whistle so loud that they let me hang out with them as though I was just one of the boys.
One of our favorite things to do that summer was to catch tadpoles and crawfish in the creek behind our house. It was about a quarter of a mile from the back porch to the creek. My brothers made a path through thick brush and prickly blackberry bushes to get there.
When I walked with them, they would lead, and I would follow the path they made. Because I wanted to be as tough as they were, I never told them how frightened I was on that path. One of my brothers had been bit by a rattlesnake while picking blackberries.
We carried pieces of screen wire to the creek and dipped them down into about two feet of water. After the water settled down, we lifted the screen wire, and hundreds of tiny black tadpoles wiggled around on the screen.
Sometimes we caught a crayfish, and my brothers would chase me around the field with it. Then, we put the tadpoles in a jar, carried them back to our clubhouse, and dumped them in a large washtub. It was a lot of fun because some of the tadpoles lived until they turned into baby frogs, and then we would release them back into the creek.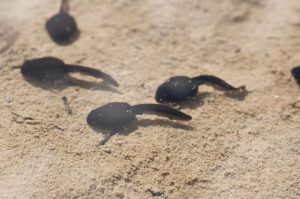 One day my mother sent me to the creek to get my brothers for supper. I called them and whistled loud before I started down the path, but there was no answer.
When I got to the creek, they were not there. So I played around the water for a while and then headed back to the house. Without realizing how late it was, dusk had sneaked up on me.
Suddenly I was so afraid. Between me and the back porch was tall grass, blackberry bushes, where I was sure a big snake was hiding, and impending darkness.
I could barely see the back porch, so I wasn't even sure which way to go. I thought about whistling real loud so my brothers could hear me and come to get me, but I was so afraid that all I could do was make a slurring sound when I put my fingers in my mouth.
Just before I was about to crumble into tears, I saw the glow of a naked light bulb. I whispered a prayer and started running as fast as I could through the brush, and the next thing I knew, I was standing on the back porch underneath the soft glow of the light bulb that had led me home.
My brothers teased me about being too afraid even to whistle. It was the best summer I ever had. As with all families, we grew up. I have been lost many times since then, and the only sound I could make was small, but the memory of that summer when I was one of the guys, and a whispered prayer has always helped me find my way home.