Blinders
Next Story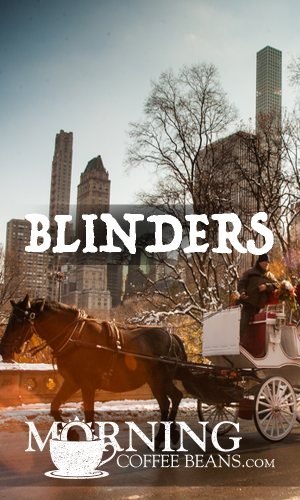 I love riding in a horse-drawn carriage but I always feel bad for the horses because they have to wear blinders. I know they are necessary because they help the horse focus and stay on course.
Farmers used blinders, made of leather flaps, on-farm horses, and mules to pull plows or wagons in the small farm community where I grew up. By limiting the horse's peripheral vision, he is not distracted by the surroundings, and the owner has better control.
Glaucoma is a disease that can limit peripheral vision in adults, also. It is a disease of the eye, characterized by increased pressure within and hardening of the eyeball. If left untreated, the disease can destroy the peripheral vision (a vision around and outside the center of the eye) and eventually result in blindness.
Not being able to see all the things around us can be frustrating. Imagine hearing the sound of a bird or the laughter of a child and not being able to glance out of the corner of your eye to catch the sight before it disappears.
However, sometimes we need to put on invisible blinders to avoid unnecessary distractions, while other times, our invisible blinders cause us to miss important things. Just like the horse pulling a carriage, we need to focus on what is ahead.
I do that a lot. For example, when working on a project or reaching a goal, I put on invisible blinders to be distracted. It helps me reach my goals, solve problems, and sometimes finish something I have started.
It works well if I remember to take them off when I finish my task, but occasionally I will forget, and the task or problem will become the most significant thing I see, while my peripheral vision will become blurred.
Once my children were teenagers, I was so worried about the outcome if I made the wrong decision in a particular situation. I spent a lot of family time concentrating on the problem. Finally, my daughter, who seems to have been born with words of wisdom spouting out of her mouth, said, "to me don't, don't you think God cares enough about the world that he will always have a backup plan; if we "mess up?" I felt kind of silly. But, of course, He does, I told her. I realized that I could only do the best I could and then trust. Trust can be difficult if you depend only on yourself and do not realize that those around you care.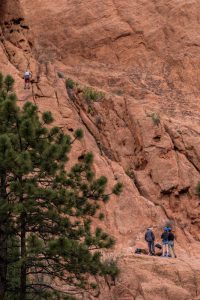 When I can look beyond myself and recognize that I am one person in a world of millions, with one problem in a world of many problems, I become aware that my issues may not be as bad as they seem. The answer may be simple to put things into perspective.
Even so, we have to make a conscious effort to lift our heads from our work, our accomplishments, or our problems to see that what we are doing is not the only thing going on in the world.
It may help to see ourselves as little rocks being skipped across a pond. We are making our unique ripple, aren't we aren't going to drain the entire pond with our splash.
My husband and I went to Denver for a conference a few years ago. We took a day and hiked a long distance into the Rocky Mountains. We were so far back that I could hear only the sounds of a running brook and birds calling out to each other. The air was cool and crisp, as the snow was still on the ground there.
Suddenly everything I worried about every day seems so tiny. For a moment, standing there surrounded by enormous snow-capped mountains, it took my breath away to comprehend how much bigger the world is than I imagine it every day.
When I went back into the city, the beautiful horses and carriages were waiting to enchant visitors with their romantic carriage rides. As I looked at the horses, I wondered what direction they would go if someone took their blinders off.