If You Love Me, Buckle Your Seat Belt
Previous Story
Next Story
I hated to start our evening with nagging, but when our daughter drove up in front of the restaurant, I noticed she wasn't wearing her seat belt. "Sweetheart, you should wear your seat belt," I said. "Sure, mom," she laughed.
Like most moms, while we were having dinner, I felt compelled to give my usual lecture about the danger of not wearing seat belts.
When we started to leave, it was raining, and I fe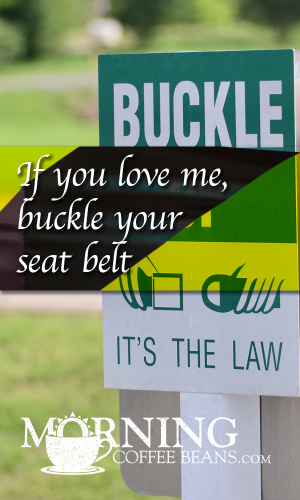 lt anxious about her driving back to her college dorm on the wet, winding roads of East Tennessee. So even though I knew she would be irritated, I tossed out another warning. "Please, honey, if you love me, put your seat belt on."
I didn't even care how corny it sounded. She pulled the strap across her shoulder and lap in a very demonstrative way, gave me a big grin, and said, "Yes, Mother," and drove off into the night.
Later that night my husband and I were awakened with the devastating news that our daughter had been in an accident.
On the way back to her dorm, her car hydroplaned on the wet roads, and she lost control. The small Ford Cavalier skidded into the side of a large tractor-trailer truck, and like a ping pong ball spinning out of control, it bounced back across the road and came to a screeching halt against the guardrail.
On the other side of the guardrail was a long drop down the side of a mountain. Her vehicle was totaled, and the policeman said that the only thing that kept our daughter from being thrown out of the car into the surrounding traffic was the fact that she had her seat belt on. We were fortunate.
However, three little boys who lived near us at that time were not so fortunate a few weeks later. Their mom was decorating the Christmas tree with them when she realized she did not have enough lights. So she told her husband she would run to the store and buy some.
He said he would go, but she thought she could do it faster. Unfortunately, she never finished decorating the Christmas tree with her family because she was killed in a car accident on the way to the store. It was a bad accident, but the policeman said she would probably have made it if she wore her seat belt.
That same year a young man I worked with had a terrible accident. A car came across the median into his lane while he was going to work. He ran off the road to avoid a head-on collision. His vehicle rolled over nine times before it finally came to rest. "It happened so fast," he told us later. He was shaken up, but he only had a few bruises because he was wearing his seat belt, which saved his life.
Not only is it dangerous not to take about ten seconds to buckle your seat belt, but also it is against the law.
Last year, I had only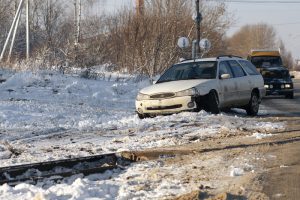 driven a block or two when I realized I didn't have the seat belt fastened. Then, as I started to pull the strap across my shoulders with my right hand while continuing to drive with my left hand, I saw blue lights flashing in my rearview mirror.
I was pulled over for not having my seat belt fastened. I went to court hoping they would give me a warning, but instead, I paid a hefty $97 fine, with no mercy.
For adults and older children (who are big enough for seat belts to fit properly), seat belt use is one of the most effective ways to save lives and reduce injuries in crashes. Yet millions do not buckle up on every trip.
According to the Motor Vehicle Safety Department, a total of 23,714 drivers and passengers in passenger vehicles died in motor vehicle crashes in 2016.2
More than half (range: 53%-62%) of teens (13-19 years) and adults aged 20-44 years who died in crashes in 2016 were not buckled up at the time of the crash.2
Injuries
More than 2.6 million drivers and passengers were treated in the emergency department as the result of being injured in motor vehicle crashes in 2016.1
Young adult drivers and passengers (18-24) have the highest crash-related non-fatal injury rates of all adults.5
Costs
Non-fatal crash injuries to drivers and passengers resulted in more than $48 billion in lifetime medical and work loss costs in 2010.6
Every once in a while, I think about what would have happened to our daughter that night when I told her if she loved me, she would buckle her seat belt. I thought it sounded silly then, but it wasn't because the fact is, love is more about what we do than what we say.