Changing the way we do education
Previous Story
Next Story
My daughter asked if I wanted to participate in our grandson's Zoom Video classroom assignment. So, of course, I said, "Yes, but what can I do?"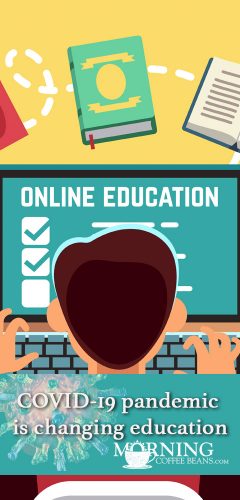 At 10:AM each morning, he participates with his classmates and teacher in their online classes.
"I would like for you to have a 25-minute class at 9:30 AM to prepare him for his school morning," she said.
I thought for a moment, and she continued. "The children usually have guidance counselors in their schools, but they are not a part of the online class."
Elementary guidance counselors are responsible for providing social, emotional, behavioral, and academic treatments and guiding them. "It could just be a "Nana" class, and you can discuss what you want," she said.
I decided to teach him a character education lesson about the different characteristics of love, using I Corinthians: 13:4-8 to demonstrate what love looks like in action.
My grandson is an enthusiastic hockey player, so I decided to use this to aid in our discussion.
I asked if he would go out on the hockey rink with his teammates without his hockey stick. "Of course not," he said.
Then we discussed how his hockey stick demonstrated that he is part of a hockey team and compared it to being part of his family member.
We broke down the three parts of his hockey stick. There is the handle to place his hand for stability, the shaft to control the movement, and the blade (including the heel and toe), which come in contact with the puck.
Loving our family requires more than words; it involves action and good behaviors. So, like he needed to understand each part of his hockey stick to become a good hockey player, he also needed to understand each characteristic of love to be a caring member of his family, including the following lesson plan.
Love is patient; love is kind. It does not envy; it does not boast; it is not proud. It is not rude; it is not self-seeking; it is not easily angered; it keeps no records of wrong. Love does not delight in evil but rejoices with the truth. It always protects, always trusts, always hope, always perseveres. Love never fails.
Our first lesson was fun and productive while learning the ways and reasons we should be patient, not only at school but with his teammates and his family.
I am very excited to have 25 minutes each morning to teach my grandson a lesson or talk and tell jokes with each other.
I miss our grandchildren and am grateful to be able to stay connected with them. But unfortunately, I don't have memories of my grandparents. They were gone before I was born, but I know what it feels like to be a grandparent. It is profound because it is like looking through the child's soul, your love so much, and seeing another part of them.
We have ten grandchildren, and we see them often even though they live hours away from us. And I am blessed to have a loving husband to be quarantined with these last days.
But I think of parents and grandparents in their homes alone and how vital those phone calls and video chats from family and friends are right now. The world outside our window is beautiful but does not compare to our children's or grandchildren's faces and voices.
Recently, I mentioned to our children that I knew they were safe because they were all together. But then I hesitated to say, "It's just that your dad and I are here, and we miss seeing and talking to you all."
A few days later, my son set up a Zoom Meeting to see and talk with them. After that, our daughter invited us to teach one of the lessons in our 9-year-old Zoom classroom each school day.
Families dealing with homeschooling, online jobs, refereeing their children, and the stress of finances don't always have time to know what grandparents may need or have in their hearts. That's why, in times like these, we need to ask.
When I send our son a note to see how they are doing, I usually get a wonderful FaceTime chat with our granddaughters. Then, when they call, I walk around the house and yard and show them things to feel like they are visiting.
The COVID-19 pandemic is quickly changing our world and how families communicate. But the important thing is that we are sharing.
In times like these, where there may be tension lack of privacy and space in the home for parents and children, the lesson plan I'm teaching my grandson may remind us all that love and respect hold families together.