Children Remember so Much
Previous Story
Next Story
One weekend I traveled to Tennessee to visit our grandchildren without my husband, who could not get off work. Alex, our oldest, and I went to the grocery store together to pick up something for lunch.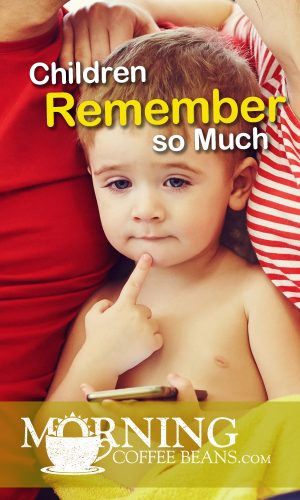 We were getting ready to get out of the car when he said, "Nana, are you and Papa sorry?" Startled, I said, "Sorry for what, Alex?" "Sorry for taking my Grinch toys away from me," he said. "What Grinch toys," I asked him. I couldn't remember that he had any Grinch toys. "The ones I got at Burger King," he answered, looking up at me.
I had to think for a moment, and then I remembered that he had gotten some Grinch toys when we were all together at Thanksgiving. Then it all came back to me.
When our family met in Florida for the previous Thanksgiving holiday, our three grandsons rode in the car with us to Payne's park outside Gainesville. Since there were four families, we had to go in separate cars and follow each other. The three grandsons were in the back seat, and suddenly they weren't the little angels we thought they would be when we suggested they ride with us.
Our middle grandson was in a bad mood and kept picking on his big brother. Alex tried to be patient and just kept turning away, but his little brother kept at it the entire trip there.
When we finally reached the park, they played hard, so we figured they would nap on the way back to the condo we had rented. Instead, Donovan started picking on his big brother again.
Suddenly he let out a scream, and I turned to see what had happened. He was crying so hard that I couldn't understand him. I figured Alex had gotten tired of being picked on and pinched him or something. But then I realized the window was rolled down a little. By then, I could make out what Donovan was saying. "Alex threw my shoe out the window," he wailed. We had already come a long way, and in that part of Florida, there are actually alligators on the sides of the road, so we decided it was best not to go back and look for the shoe.
My husband and I mustered up all our sternness and told Alex that we were disappointed with what he had done, and reminded him that he would have to tell his parents that he threw his brother's shoe out the window.
To make our point a little clearer when we stopped at Burger King for lunch, we took his kid's meal toys. He was so disappointed that he wouldn't eat. Just before we left, Alex asked me if we were proud of him. "Of course we are," I told him. "We just weren't proud that you threw your brother's shoe out the window."
When we got home from the holidays, we realized we still had the happy meal toys and laid them on our dresser.
We often picked up the toys and laughed about the incident, and wished we could give them back to him. It was amazing to me that he remembered all that, and it was still on his mind.
So I told him, "Yes, Alex, I wished we hadn't taken your Grinch toys away."
"I'm sorry I threw Donovan's shoe out of the window," he said. But what did you do with the happy meal toys, Nana?" I told him we would talk about that when we got back to his house.
After we put our grocery items away, I called my husband and told him about our conversation, and then I gave the phone to Alex.
My husband assured our grandson that we loved him and were always proud of him and said, "Go look in Nana's suitcase, Alex." By this time, I had my suitcase unzipped. He ran into the bedroom, stuck his hand down into the side of the suitcase, and squealed with delight when he pulled his Grinch toys out! Children remember more than we think.