Dear Mr. President
Previous Story
Next Story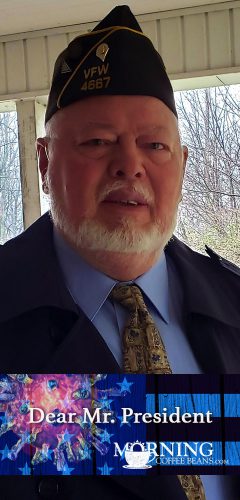 My husband is a quiet man, the kind that when the storms come, outside or inside, he's steady as a rock. While trying to figure out how to fix everything and everyone, he usually has three things to say. Deana, leave it alone; this to will pass. There's a reason why things happen, or what are you going to do about it?
I think the quarantining is getting to him, and like everyone else, he is ready for it to end. He sometimes edits my columns, checks my grammar, and reminds me to check the facts.
However, I think he may be stressing out a little because recently, he handed me a column he wrote, and I think some people can relate to it.
Dear Mr. President, you keep telling us to social distance, wash our hands, and keep our hands away from our face to avoid the coronavirus.
Mr. President! Social distancing is most painful. I have friends I can't visit and neighbors in the hospital. I call them on my new phone, which had state of the art space-age video to see my family; I laugh with my family. I share all kinds of experiences with my family and friends. But Mr. President, I can't touch them.
It is day 38 of this dang quarantine. I am emotionally depleted. I am physically and sensually deprived. I am ready to tell the governor to take his "stay in house" order and shove it. I am going out and touch someone. As much as a drug addict needs a fix or an alcoholic needs a drink, I need to touch someone. I need to hug someone. I need a fix.
Every time I walk into the kitchen, I am confronted with, "Have you washed your hands?" I turn the news channel on, and again I hear, "Wash your hands."
Mr. President, I now have dishwater hands. I don't have wrinkles; I have mountains and valleys on my hands. I have swamp creature hands. Speaking of social media or distancing, when people see my hands, they turn and run the other direction. They don't make a hand cream that can erase the ridges in my hands.
Mr. President, it is almost a reflex to bring our hands to our faces. However, there are untold numbers of videos showing our esteemed government officials touching their face to scratch an itch or rub their chin, all the while exhorting us not to touch our face.
Why, just the other day, I had to sneeze. I looked for tissue to no avail. I looked for a napkin, all the while my nose was running away. I looked for a paper towel but no paper towels. I ran to the bathroom to get some toilet paper. Agast! No toilet paper.
What is a man/ woman to do? My nose is running across my mouth down to the front of my shirt. What am I to do," I know? I'll do what my mother always did. When there were no tissues available, no napkins, no paper towels–the tail of my shirt would do, or the crook of my arm.
Mr. President, I was horrified yesterday. I am a gardener, and when I work in the garden, I drink a lot of water. To my astonishment, I could not taste or smell the water. I begin to hyperventilate. I might have gotten the coronavirus. I was terrified. I couldn't smell, taste, or breathe.
My wife, who is a retired nurse, told me to calm down. "You need to recall your high school chemistry, she said. Pure water does not have an odor or taste."
Where is the Kool-Aid, tea, Cola, orange juice? Anything with the taste or odor?
After I read his story, I said, "Honey, this is going to be over soon. You know everything happens for a reason. This pandemic will make us stronger, more conscientious, and hopefully, kinder to each other.
And there's only one thing we can do about it, and that is taking care of ourselves, follow the guidelines for not spreading the virus, and pray for our country, our family, and those who are hurting.
He's fine now. He just needed to be reminded.