Embarrassing the Kids
Previous Story
Next Story
When our children were teenagers, one of the things they hated most was when I used coupons to buy groceries or when I would count out change from my purse instead of handing over dollar bills or a credit card.
Little things embarrassed them, like when I cut a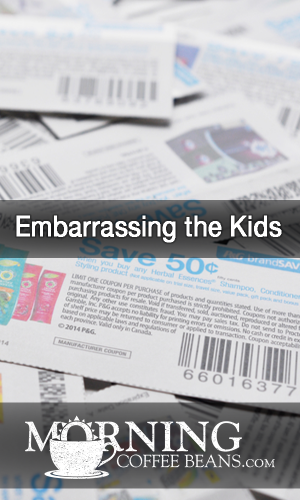 newspaper coupon for a chicken bucket. I stopped at the intercom of the fast-food drive-in sign and ordered the fried chicken but failed to tell them I had a coupon.
When I drove to the window, I showed them my discount coupon, but they said they couldn't take it because I didn't tell them I had it when I made my order.
I thought about that and then told them to cancel the order. My 13-year-old daughter was sitting beside me and immediately became embarrassed.
Her embarrassment turned to horror when I drove back around the drive-thru and ordered the same meal again. This time being sure to tell them I had a 20 % coupon.
It's funny how children begin to understand their parents' things when they have their own family.
As a wife and young stay-home-mother, my daughter is a mathematician in the grocery store. She often calls to tell me how much money she saved on her groceries using coupons. She even finds it amusing that people get aggravated at waiting while the cashier counts out her coupons.
Recently she was very proud of herself when she went back to the clerk in a department store after she had checked out to show her the sale price the clerk had missed. She had charged her the regular price. She made several customers wait for a $13 savings while the clerk voided and rang up the entire purchase again.
Fortunately, her daughter was just seven months old and didn't yet realize how embarrassing that could be.
It wasn't just saving money that embarrassed my kids. I loved everything they made for their dad and me and kept them all out so everyone could see.
My youngest son laughed when I framed his drawings and doodles because I believed he was a budding artist. When his friends visited and noticed the homemade motif, I often told them a story about his eclectic artwork.
My red-faced child dragged his friends into the privacy of his room before I could get too far. When I visit my son's home, most of the art you see on his walls is what his children have drawn.
As the children grow older, they ask me why I still keep those silly little things around the house. "Why don't you buy some new things?" they say. But, of course, as their children grow older, I'm sure I won't have to explain my nostalgia as often.
Interestingly, our middle son called to ask me to meet him on the computer webcam to show me the pottery bowl he was making. As I listened to every detail of how he molded it and painted it, he held it up to the webcam so that I could see every crevice of his freshly created masterpiece.
He even wanted me to see how he had left his fingerprints around the rim instead of smoothing it out. Leaving his fingerprints made it a unique piece. Indeed, he told me. It would be "one of a kind," he said. He said he would make another and send it to me.
But since we were playing show and tell on the computer, I told him to wait a minute. I ran downstairs, got the little round pottery bowl filled with nuts, and brought it back for him to see. I showed him how carefully the little hands that had made it had left fingerprints all around the rim, so I would never forget how little he once was. I told him not to worry about sending me the bowl right away. I had the original.
He was fascinated when I showed him his carved initials on the bottom. Life is one big circle. It is interesting how our children learn from us despite themselves. The things that seem so frivolous, even embarrassing to them as young people, eventually gain value and become irreplaceable.