Everything is Going to Be Alright
Previous Story
Next Story
It's Palm Sunday as I write this story, and my husband walks in the room and says, "Hey, aren't we going to church," I look up at him for a moment, and he says, "Oh, right, I forgot."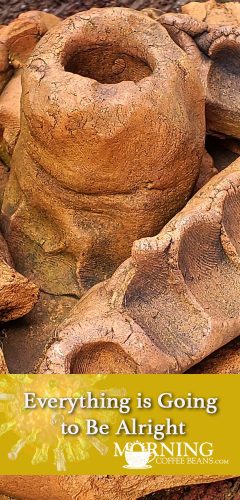 He is a retired minister and always goes to church, even if we are on vacation. He believes it is essential to visit the house of God on Sundays, but our churches are closed today as we practice social distancing due to the Coronavirus Pandemic.
He enters the kitchen, turns on gospel music to its highest volume, and starts cooking breakfast. It made me cry, and I got up and walked outside with my coffee.
Palm Sunday is the Sunday before Easter that begins the Holy Week. It is the day that we remember and celebrate the day Jesus entered Jerusalem as Savior and King.
As Jesus rode a donkey into Jerusalem, a large crowd gathered and laid palm branches and their cloaks across the road, giving Jesus royal treatment and shouting, "Hosanna to the Son of David! So bSo blessed is he who comes in the name of the Lord! Hosanna in the highest heaven!'
Little did they know he would hang on a cross when Good Friday arrived in five days. Things can change very quickly.
While watching the birds flitter around the feeders, I noticed a piece of broken pottery my oldest son had made for me in Elementary school. It has his little fingerprints pressed into the clay around the edges. It broke a few months ago, and I have been trying to figure out how to fix it.
But the sad thing is I can't remember when he gave it to me.
In times like these, I am reminded that life is comprised of moments, not days or years. I wish I could go back and feel the moment he placed this beautiful creation in my hands, but I can't. But, unfortunately, there are a lot of moments like that.
It is hard right now being quarantined, not seeing our children and grandchildren, not going to church, and not laughing with our friends, but this moment will be something we look back on one day. We will remember how painful and hard it was, but I want to create moments I will cherish and be proud of.
While walking on the Riverwalk this week, I met a man climbing up the bank holding his fishing pole. "Did you catch anything?" I asked him. "No, I just wasted an hour and didn't catch a thing."
"Do you like to fish?" I asked. "Yeah, I do," he replied. "Then why do you feel it wastes your time?" I asked him.
He just smiled impatiently, shrugged, and walked away. I know he may be worried or hurt because of this battle our country is fighting, but I wanted to tell him that everything would be alright and that he wasn't wasting time doing something he loved for an hour.
My husband had an app on his computer where a voice repeatedly announced, "Pay attention, now!" I don't remember why he had it there, but it always made us smile and stop and think about what we were doing.
We have that voice in our heads and hearts too, but so often, it is blocked by all the other voices in our lives.
Recently, I watched a young mother on the playground across the street from where I live. She had two beautiful, energetic children playing around her, calling out her name as they swung on the swing set and slid down the slide, but she never looked up. Instead, she was looking down at her cell phone.
As a mother, a grandmother, and a woman who lost a child before she had time to grow up, I wanted to be that voice in this mom's head that said, "Hey, pay attention now."
Don't get me wrong. I love technology. It is an excellent tool and a way of keeping close to our family and friends, but too much technology can be one of those voices that claim our attention and cheat us out of a moment we will never get back.
My husband finished making breakfast and called me in. He saw my tears, wrapped his arms around me, and prayed for our children, grandchildren, healthcare workers, leaders, truckers, friends, neighbors, and our world, and then looked down at me and said, "Everything is going to alright, honey."
I know he is right. This is Holy Week. Remember, the day Jesus was crucified is called Good Friday because we know how it ends. His death led to the Resurrection of Jesus, His victory over death and sin, and the celebration of Easter, the very pinnacle of our Christian celebrations.
I hope for you this week that you will pay attention, cherish your moments, and believe in the future because we know everything will be alright, but if it isn't, we'll make it through it.