Fishing On The Fly
Previous Story
Next Story
I watched with interest as my husband worked on his casting technique with his new fly rod. Fly-fishing has always been an appealing sport because it requires more activity than just standing and waiting for a fish to pull your floater underwater.
I was assigned to watch over the other four fishing poles he had brought with us. They were baited with live shrimp and had bright green, orange, and yellow floaters bobbing on top of the water. I wanted to try casting the line too, but it was his pole, and I figured I would wait for him to wear the new off.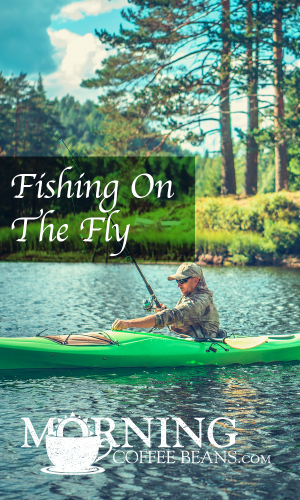 He worked for a while and then complained that maybe he was throwing the line too hard and said he needed to work on his casting efforts. So I teased him by saying something like: "You've got to put your whole self into it."
I watched fly fishing on the fishing channel, and it seems that when people fly fish, they use their entire body to work with the rhythm of casting and pulling the fly through the water.
After a while, he put the rod down and checked on the four poles he had left me in charge of. Finally, I couldn't stand it any longer. I wanted to see if I could cast the fly rod the way I had seen it done on television, so I seized my chance. "Could I try the fly rod?" I asked. "Sure, he said, but it is hard to do. I will probably have to help you."
I picked up the long pole with the yellow rope-looking line and caught the excess line in my left hand while drawing the rod back with my right hand. The feathery hook jerked awkwardly backward through the air. I immediately threw it forward. It plopped into the water, but it wasn't smooth. I tried again and again until I could feel a rhythmic movement.
Back then forwards, then a quick pull to make the lure look and act like natural bait. It felt a little like a dance. After a while, the line was sailing easily, and I thought I needed my own fly rod.
My husband was truly impressed when he saw me casting. He said I seem to have a natural knack for it. A friend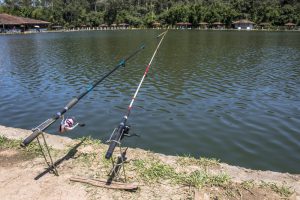 told me that a woman could sometimes cast a fly rod better than a man because she is gentler with the casting.
When I was getting pretty good at casting (or at least getting the line out without getting it tangled), I decided it was time to start looking for a fish in the water to entice.
However, my husband was getting ready to go just when I was sure of myself. So I decided to try one nice, long, smooth casting motion to impress him and show him how far I could get the line out.
I drew back the rod with the yellow line and feathery lure flying in the air and let it go with all I had. I put so much into the effort that I fell forward with the line. I tried to stop, but my foot slipped, my knee went forward, and I was staggering with nothing to grab for support except the fly rod I had in hand. The next thing I knew, I was face down in the muddy water.
My husband heard the splash and looked over, thinking I must have landed a big fish. When he saw me trying to stand up in the water–mud running down my legs, he laughed and said, "That's what I call putting everything you've got into it!"