Giving The Gift of Life
Previous Story
Next Story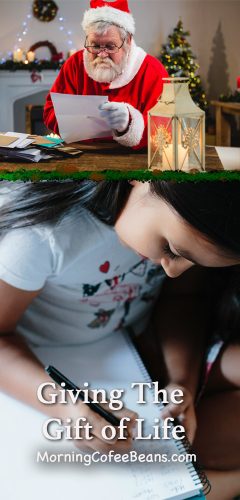 Dear Santa

"Before you get too busy with all the gift lists, we need your help. We will ask you for a special gift.

We have a friend. He is an Native Indian. He went to fight in the war, in a nation called Vietnam. He's a very tall man, long hair, skinny and dark like some of us Latinos.

Tom does not speak Spanish. He speaks Indian and English, but he is a nice man.

Our friend's name is Tom. Now that he's a little more sick, he went to see his family in Arkansas. But we know you can find him.

Santa, could you find him a kidney so he will not die? Maybe someone has invented a plastic kidney or something like the heart machine. Maybe someone dies, but wants to give his kidney. Hurry!

Please can you give it to him on Christmas Day?

It will be OK if you bring us a $1 dollar gift. Just get Tom his Kidney."

Thank you, Sofia and Brothers
The letter was sent to the newspaper to be delivered to Santa Claus. When I opened it, I felt blessed to read it before sending it on to the recipient.
I made a copy and kept it for a few days and then called Sofia's mom to ask if I could share the letter in this column. Then I decided to find Tom and tell him about this beautiful gift of hope Sofia wished for him.
His wife, Nita, answered the phone when I called. It took a moment to explain why I was calling, but she cried when I read her the letter.
Her husband, Tom, who is Chickasaw and Choctaw Indian, suffered from Polycystic kidney disease. It is a genetic disorder characterized by the growth of numerous cysts in the kidneys. The cysts are filled with fluid and will eventually replace much of the mass of the kidneys, reducing kidney function and leading to kidney failure. After that, the patient requires dialysis or kidney transplantation.
Tom was on dialysis three times a week for five hours a day and was waiting for a kidney.
The disease took the life of his father when he was nine and his older brother in 1998. His younger brother suffers from the disorder, and so does his nephew.
After four and a half years, Tom found a kidney donor. He was a big man, 6 feet, 6 inches tall, weighing over 200 pounds, so he had to wait for a kidney from a large person. He also had a blood type of B positive, which is very rare.
According to blood Chemistries and body size, the Organ Procurement and Transplantation Network matches donated organs with critically ill patients.
My 67-year-old brother in law, Joe, has been on the kidney transplant list for a year. His kidney failure comes from genetic diabetes and high blood pressure. Right now, he is on peritoneal dialysis for eight hours each night.
Joe has 22 grandchildren and one great-grandchild who could have written a request with just as much love as the letter above.
Each day about 68 people receive an organ transplant, but another 18 people on the waiting list die because not enough organs are available.
Organ and tissue transplantation saves lives, but only if people are clear about their wishes in case of death.
Having an organ donor written on the back of your driver's license is not enough. You must carry a donor card with you and let your family know your wishes.
Christmas is about giving because of the example of the birth of a child who was born to give his life for others.
In the letter to Santa, Sofia and her brothers wrote that it was all right if they only received a dollar gift, but the thing they wanted most was for their friend to have a chance at life.
Tom said he had no words for how he felt about the children writing such a wonderful letter for him.
"It is amazing how much little children know about giving," he said.
If you are interested in more information about giving the gift of life through organ and tissue donation, you can visit a website called www.organdonor.gov. The site also has donor cards that you can fill out and carry in your wallet.