Happy Meal Toys
Previous Story
Next Story
Before the holidays began, I spoke with my 5-year-old grandson on the telephone. He and his two little brothers lived in Knoxville, Tenn. I told him we would meet him in Washington, D.C., at his aunt's house for the Thanksgiving holidays.
He was so excited about being able to see us. He said, "Oh, Nana, will you be bringing me "Happy Meal" toys?" It seems that I had become the grandparent who gives him the little things in life.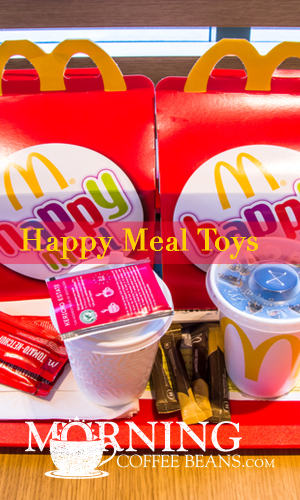 When our youngest son was little, his favorite toys were happy meal toys. We collected them when we ate at the different fast-food restaurants. He lined his bookshelves and windowsills with them. Often I would remove them out of his hands at night when he fell asleep.
As he got older, he was embarrassed to ask for the children's meal, so I would order the happy meal and give him the toys for his collection. Even though he eventually abandoned the idea of collecting happy meal toys, I continued to pass them on to his children.
When I visited them, I put the toys in different parts of my suitcase so that each day that I was there, they were allowed to search for one toy to play with. These little toys seem to be a bigger treat than any other big or expensive gift that I could bring them.
Without really trying, I guess I created a little tradition between us. They knew they could always find a happy meal toy stuck somewhere in their Nana's luggage.
Whether it is a happy meal toy, the smell of warm cookies, or giving a favorite book to a child, children need a connection with their extended families.
Many children grow up around the corner from grandparents or other extended families such as aunts, uncles, and cousins. Yet, they enjoy regular visits, like Sunday dinners, special outings, or even after-school care. I really envy that.
These relationships are important and special in a child's life; however, not all children regularly have intimate contact with loved ones.
In today's society, families, like ours, are often spread across the country or even the globe. Maintaining long-distance family ties requires some effort but is well worth it.
The good thing is, never in the history of humankind has it been easier for us to keep in touch with one another. We are fortunate to live in a time that offers many means of communication and allows us to travel great distances quickly.
Because I did not have grandparents and could not give my children the gift of two people who were a gentler version of their parents, I work at creating memories and building strong bonds with our grandchildren. We can communicate with our children and grandchildren almost daily with letters, text, cell phones, and so much more.
When I occasionally feel sorry for myself, my daughter will remind me that she doesn't feel far from her brothers or us because we continue to share our everyday lives. I always thought that I would be close enough for our children to drop by or visit them whenever I wanted, but it didn't turn out that way.
That's OK, though. When we mix love with every moment, even something as simple as a Happy Meal toy can create precious and lasting memories.