How Not To Pick Your Nose During the Coronavirus
Previous Story
Next Story
An entire country has been shut down for almost two months because of a virus that is transmitted through the very things mothers have been trying to teach their children for centuries: Wash your hands, keep your social distance and for goodness sake(a southern term), get your thumb out of your mouth and stop picking your nose!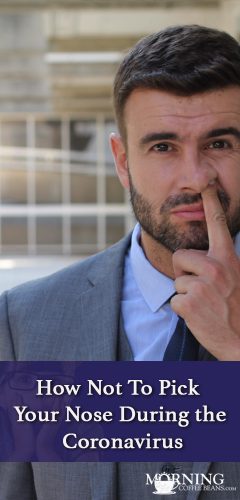 The nagging that made our children roll their eyes in the past may not be necessary for the future, especially if parents are talking to their children about how and why this virus, and all viruses, spread so fast.
Think about it. Viral infections have always spread the same way the coronavirus spreads during this epidemic; through the air as small droplets or tiny aerosol particles.
It also spreads when we use our unwashed hands to touch our eyes, nose, and mouth.
Dr. Oz says the issue is less about touching your nose and more about keeping your hands clean. "If someone sneezed on this chair two hours ago, maybe even six hours ago, the viruses on there could still be alive," he says. "So if I were to touch that chair and then go to my nose, my nose is a petri dish. It has nice, moist mucous membranes. And then we begin to colonize viruses."
And the ways not to get sick have always been the same: Wash your hands a lot (although mine are beginning to look like corn husk), keep your hands away from your face, and when you or someone else is sick with a contagious illness–keep your distance.
I came home and sanitized our entire house during my first break after beginning nursing school. Of course, I drove my family crazy, telling them to wash their hands, but I learned how people became ill and how I could help them avoid getting sick.
However, there is something about putting your hands to your face that brings comfort. It may be putting your head in your hands because you have a headache, wiping the tears from your eyes, or putting your hand over your mouth to keep from saying what you're thinking.
However, picking your nose is not only unhealthy but is considered a private act (such as burping, farting, urinating, and defecating). I know what you're thinking, but it must be said to finish the story.
Have you ever stopped at a red light, glanced at the car next to you, and saw someone picking their nose with one hand on the steering while the other is in their nose? So awkward! I usually turn away quickly.
With that said, we all do it. People pick their noses for different reasons. Sometimes the nose is dry or overly moist and may be irritating. Choosing to pick your nose can relieve the discomfort. Others pick their nose out of boredom or a nervous habit.
There is a saying, "You can pick your friends, you can pick your nose, but you can't pick your friend's nose." I don't know what that means except maybe you can pick your friends and make your own decisions, but you can't make your friends' decisions for them.
So that makes us responsible for taking care of ourselves while being careful not to harm others during this trying time of social distancing.
Here are some tips that can help you or be used to teach your children how to break the habit of picking their noses, constantly touching their faces or even nail-biting.
Often, people pick at their nose because it is dry. A quick spritz with saline spray may help restore moisture and prevent dry snot and boogers. Also, keeping a few clean tissues in your pocket keeps your hands away from your nose.
Keeping your hands busy can help with nose-picking, nail-biting, and touching your face. You can do it with a stress ball, a rubber band wrapped around your wrist, sewing, putting puzzles together, or learning a new craft.
A young mother told me how she helped her children stop picking their noses. Every time she saw them picking their nose, they had to wash their hands for 20 seconds. "It worked," she said.
When our grandchildren visit, I always have fragrant-smelling liquid soap, so I know they have washed their hands when they come out of the bathroom or into the kitchen to help.
I believe our children may have healthier habits in the future because of the Coronavirus epidemic. What they've learned about not transmitting illness in this pandemic can turn into a new normal of practicing good hygiene in their lives and in how they teach their children to stay well.
And if they need to be reminded, they can point back to this moment in history and say, "Remember the 2020 Pandemic. Wash your hands, stop touching your face and keep your distance. You never know who's got what!