How Sports Teach Young People To Never Give up
Previous Story
Next Story
It was the last 45 seconds of the game, and the basketball had been pushed into her hands. For a second, she stood there numb, bouncing the ball on the polished hardwood floor. The seconds ticked by until she was jerked into action by the shouting on the sideline. "Throw it, throw the ball!"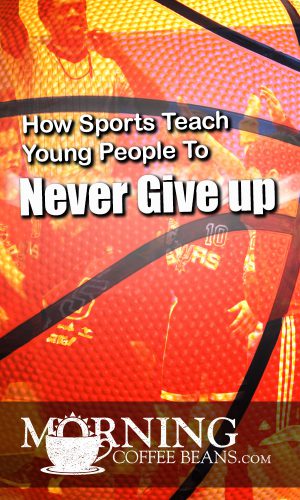 A tall guard loomed in front of her face. She moved to her right side, glanced at the round metal ring with the basket below, closed her eyes, and threw the ball toward the goal as hard as she could.
Relieved that the discarded ball had distracted the aggressive guard in front of her, she glimpsed at her coach. To her surprise, he had both his hands up in the air, cheering, and so was everyone else around him.
It took a moment to figure out what happened, but suddenly she realized she had made the basket and the winning point to place the team in 2nd for the district basketball tournament.
Teammates hugged her and patted her on the back. She was surprised when she was chosen to accept the trophy on behalf of her team. It was a moment that still makes me smile when I think about it. Yep, it was me, and the funny thing about this story is that that was the only basket I made during my entire high school basketball career.
That's because I wasn't an outstanding player. Most of the time, I sat on the sidelines. One of the players got hurt, and for some reason, the coach decided to put me in. It may have been because I always sat there, tried my best, or didn't have anyone throw the ball to me. Maybe he just decided to give me a chance. Whatever it was, it was my only moment as a sports champion.
The reason I went out for sports was to have fun. That's what most kids want to do when they go out for a sport. Sure the competition is good, and if they do well, everyone notices. But even if they never score the winning point or become the player of the year, they should have a chance to enjoy being part of a team.
When I drive by the school near my home each day, I watch as students practice ball with their families and friends gathered as fans and spectators. I think about how sports can shape their lives. If they are given a chance to do their best, they can learn some valuable skills.
Playing on a team teaches good sportsmanship. That helps when we are grown up, and our actions affect everyone around us. Being part of a family or working in a public job, we have to do what is best for everyone and not just ourselves.
Even though I was not a good player, I must have been in the right place when my teammate threw me the ball. She could have thrown the ball herself, but she chose to take a chance that I could make the goal.
Rules are an essential part of life, and one of the first public places kids learn about rules is on a team at school. I had to work at the rules in basketball. The buzzer was always sounding when I stood in one place, holding the ball too long, or stepped on a line that was out of bounds. I think they were called fouls, and I made plenty.
In real life, there are rules we need to respect. When the light is red, we stop; when the light is green, we go. If we do that, most of the time, we will get across the road unharmed. Rules keep us safe.
Another important lesson learned in sports is respecting our teammates, opponents, and officials. As parents, we tend to center our lives around our children and their needs. In sports, children learn to think of someone besides themselves. How they treat each other will affect the entire team. Even how they treat their opponents can affect the team.
Learning how to respect the coaches and officials' authority can be a big part of being successful in life. It is a fact that children who do not learn to respect authority when they are young spend most of their life in trouble.
Playing basketball did not make me a great athlete, and my one moment of success did not make my parents push me into becoming a sports star. It did, however, teach me some valuable lessons that I use every day.
I learned that if you stay around long enough, try as hard as you can, someone might give you a chance, and if they throw you the ball, aim high and give it all you got, you might win.