How to Deal With Telemarketers
Previous Story
Next Story
I am not always friendly to telemarketers. I am ashamed to say that occasionally, I have slammed the phone down and been rather short-tempered about the times they call my house. However, all that changed a few years ago when I decided it was time to reclaim control of my telephone calls.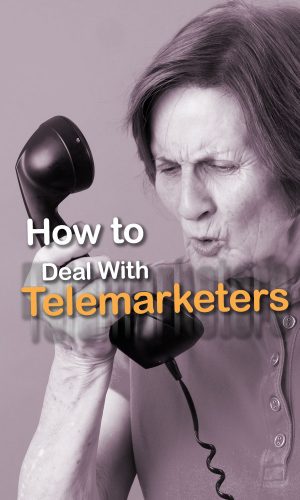 Like most people, we receive so many annoying telemarketing calls each day–for credit card offers, vacation packages, pledges to various charities and insurance companies–that I spend a good part of my evenings complaining about those irritating calls. I almost know the ring and usually try to let the call go to voicemail.
One evening, when I knew it was a telemarketing call, I decided it was time for me to ask questions. After all, as a writer, one of the things I do well is ask questions.
The first call I received that day was from a woman in Arkansas selling vacation packages. You know, the one where you get free travel and hotel stay for two days if you spend a day and a half looking at overpriced property you can't afford.
After she read her script, I asked her some questions about her job and herself. She turned out to be a pleasant young mother who goes to an office with other telemarketers each day. When I asked her if she liked her job, she said it worked for her because she had young children and could work only a few hours a day while they went to preschool. I asked her what she did when people hung up on her or got aggravated about her phone call. She said it didn't upset her because she expected many to do that. "I just whisper a little prayer for them and dial the next number," she said with her southern accent.
It was an interesting conversation. The next telemarketer called a North Carolina college student who worked soliciting low-interest credit card applications. "It's a great job for me," she said. "I can do it in the evening after classes, and the money I make is not bad."
I could picture the young mother dropping her children off at the preschool and working until it was time to go back and get them and the young girl trying to make a little extra money for college.
Putting a face and life with those voices took a little irritation out of answering the phone for me.
When telemarketers call, it's easy to feel like they're the ones invading our privacy, but these people have been hired by companies and given a script and the time of day to call as part of that company's marketing strategy.
Telemarketers are ordinary people doing a job that usually pays no more than minimum wage and offers little or no benefits. Many people like to make fun of telemarketers and their irritation when they call at inopportune times. Radio commentator, Paul Harvey, told a story about a comedian, Tom Made, who went to a telemarketing convention in Washington, D.C. He said he disguised himself as a telemarketer and called the other telemarketers in their hotel rooms at 3 am. When they answered, he asked them questions for his Insomnia survey.
That is probably every consumer's dream, but there are some practical ways to rid yourself of telemarketing. The National Do Not Call Registry (Go to donotcall.gov or call 1-888-382-1222 (TTY: 1-866-290-4236) was created to stop unwanted sales calls. It's free to register your home or mobile phone number. It can take up to 31 days for sales calls to stop.
If you've already added your phone number to the Do Not Call Registry and are still getting many unwanted calls, odds are the calls are from scammers. Read about blocking unwanted calls to find out what to do about them. If you answer one of these calls, hang up and report the call to the FTC.
If you don't want to do any of these things, you can do what my daughter said she did when we were discussing this column. "If it is something I am not interested in, I just tell them I don't have time to listen and wish them good luck," she told me. After all, mom, they are just people trying to make a living, just like you and me.