In My Corner of the Field
Previous Story
Next Story
I grew up on a farm. At the end of each summer or harvest year, my dad set fire to the fields to prepare them for seeding the following spring. My brothers and I helped him by containing the fire in our corner of the fields. We didn't have vast fields, but this was a low-cost alternative to tilling in the previous year's crops, and my dad also believed it killed unwanted insects.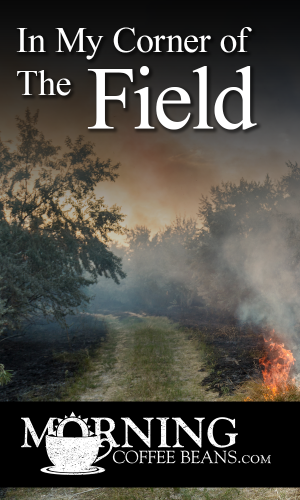 Our job was to stand in our designated section of the field with a large wet cloth or a wet broom and make sure the fire did not go beyond our corner of the field. If the fire began to spread beyond where our charge was, we were to beat it out with our wet cloth or broom. I can still hear my dad's deep voice. "This corner of the field is your responsibility, this is what you concentrate on, and we will be all right." A lesson formed in my mind while helping my dad take care of the yearly burning of the fields: if I take care of what I am in charge of, the world will be all right.
Our son, who donates his free time working as a counselor in homeless shelters, call to discuss politics one day. Like so many others, he is concerned about the presidential election and the direction the country is heading, which is already the topic of the daily news commentators and pundits. I wanted to encourage him, so I used this story to help him understand that he was making a difference in this world, right where he was. "If you take care of your family and teach your children the values you believe in and make a difference in your community, as you are doing, you will be doing your part right now," I told him. Having access to the news worldwide, with just a click of the remote, sometimes makes us feel like we are not doing enough. We feel helpless and want to do more, but the truth is that if we want to change the world, we have to start with where we are. The difference we make in our families, our friends, the people we interact with daily, and our communities is where the significant changes in our world begin.
I think lots of men and women have decided to be politicians to change the world or gain national fame and, in the process, failed and even lost their families. It doesn't just happen in the political world. Sometimes, it happens in the world of missionaries and pastors, too. As Christians, we think we know in what direction our country is supposed to go, but it is my humble opinion that only God knows, and He expects us to do an excellent job at what has been placed in our charge. It is not like God doesn't know what is going on or that he can't do anything about it.
My teenage daughter once gave me a mouthful of wisdom when I told her that I felt I had failed God and messed up His plans. She looked at me with incredible innocence and said, "Mom, surely you don't believe God would not be able to complete his plans without you?" She was right. It is a privilege to use God to complete his will, but God's plan, even though it includes us, is not dependent on us because God has his way in this world. He was the beginning, and he is the end. The world is a broad field; the government is only one part of that field, and the only way we can have input is to vote or run for office, and even then, things may not turn out the way we believe it should. A precious chaplain friend also gave me a mouthful of wisdom recently when I asked him what he thought about the elections. He said, "I don't plan to spend my time pouting about the outcome. I plan to keep on praying and doing what God has called me to do."
Pouting takes a lot of time and energy, causes bitterness, and often isolates us from the ones we love. The best way to get over disappointments is to focus on what we have control over. For example, what is in front of us, the next thing, our choices in life, and how we treat our families and those we meet. There was a song written in the "90's" called "My Corner of the Field" sung by Bill Morgan. The last two lines of the chorus defined what was important in life to me: "Don't let me bruise one and Lord, don't let me lose one…in my corner of the field." It kind of goes along with what my dad used to say–if we take care of what has been placed in our care (our corner of the field), we will not have to worry about the fire getting out of control.