Memories of Christmas
Previous Story
Next Story
My favorite memories are the smell of oranges, the crackling sound from our fireplace, and the sight of candy-striped material on my mother's sewing room floor.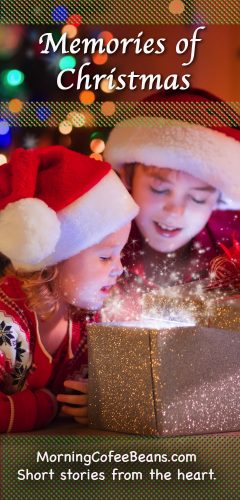 Christmas was the only time we had oranges. Their nostalgic sweet, citrus smell still stirs up memories for me, irrespective of the time of year.
When we lived in South Texas, I loved it when it was time to go to the orange grove to pick oranges. I could hardly wait until we'd get into the car and begin to peel the skins off while the sweet, sticky juice ran down my hands. After that, we ate all the fresh oranges.
When I was visiting schools during the holidays, one youngster told me the fruit she thinks about is grapes. Their family tradition is eating twelve grapes on Christmas Eve and making twelve wishes. She says their wishes don't always come true, but enjoying this family tradition year after year is notable for her.
Another memorable Christmas memory that comes to mind is candy-striped material lying on the floor in my mother's sewing room.
We had a large family, and my mother made all our clothes. Often, she used the material from the bags of flour she bought each month. At that time, the merchants packaged their flour in bags made of cotton material, usually a pretty pattern or flowered print.
Before Christmas one year, my mom bought a flour bag with a candy red and white stripe. When I asked her if she would make my Christmas pajamas, she said she gave the material to someone else. I was disappointed. However, curiously, little fabric scraps were on the floor whenever I peeked into her sewing room.
On Christmas morning, when we ran into the living room to see what Santa had left us, I found a beautiful little dark-hair doll dressed in a candy-striped dress and lots of candy-striped accessories.
I was confused because I believed only Santa Claus brought our toys, but my mother assured me that she had given him the material to outfit my doll. Of course, I suspected she had much more to do with it, but I wasn't ready to break that magical childhood spell yet.
A friend at work said that they always put their shoes neatly by the bed at night when they were little. The following day someone filled the shoes with goodies. In our house, our Christmas stocking was our biggest and cleanest socks.
Our children and grandchildren probably won't remember exactly how many toys and gifts they receive as much as they will remember the little things we did to make these holidays special.
Holiday memories and traditions are essential. They are a part of building a strong bond between family and our community. They give us a sense of belonging and a way to express what is important to us.
Whatever we do each year to celebrate the holidays, whether planned or not, becomes a memory and sometimes a treasured tradition in a child's eyes.