We Are More Than Occupants
Previous Story
Next Story
I was hoping that the seat next to me on the plane would be empty. As I opened my magazine, I thought how comfortable it would be to spread my things out a little and relax without talking to anyone.
However, the voice that made me look up told me that was not going to happen. The petite young girl standing before me wore brown baggy shorts that were too large for her and an equally baggy gray shirt with a guy's name on it.
She had pulled her hair back in a tight ponytail, and her face looked tired. She already had headphones hanging around her neck, and a connected wire traveled to her pocket. She was carrying a poster board with drawings and names written all over it.
"Excuse me," she said, "That's my seat." And she slipped into the window seat next to me. We exchanged a few words, and then I went back to my magazine, hoping she didn't want to talk. But, instead, she pulled her headphones over her ears.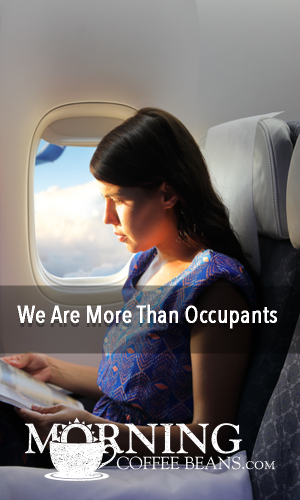 It is interesting how you can sit so close to a person on a plane and act like they aren't there. We nod and greet each other and then retreat into our worlds while the person in the seat next to us becomes simply an occupant.
Sometimes when I am having a snack with my elbows only inches from the person next to me or taking a nap with our heads nodding in the same direction, I think about how odd it feels.
I looked at the young girl, but she was resting her head on the tray that let out from the back of the seat in front of her and was dozing. So it didn't look as though we would have much to talk about anyway.
Just when I was about to retreat into my magazine, something happened to the plane. Without warning, it felt as though the massive machine had hit a couple of big potholes in the sky and then dropped about 1,000 feet.
Without hesitation, my arm reached for the young girl sitting next to me. She awoke abruptly and looked around with the same fear and confusion on her face that I felt.
Some passengers gasped, and others laughed nervously, and for a moment, I couldn't focus because it felt like the plane was out of control. Thankfully, after a few uncertain minutes, the pilot evened out the plane, and the ride became smooth again. When I looked at the girl, she smiled and said, "Thanks, that's what my mom would have done," and we both laughed.
The flight attendant announced that there had been some turbulence and everything was fine. However, the girl in the seat next to me was no longer an occupant. Her name was Liz. She was a sophomore at the University of Michigan, and she was majoring in psychology.
She just finished two missionary trips with the Way of the Cross Ministries inTexas. "I've been doing this for four years," she said. She told me about the services she and the ministries have in Mexico, the children they teach, and the houses they have helped build.
While she was talking, her face's tiredness went away, and excitement came alive in her eyes. The poster she had brought on the plane was a souvenir of the good wishes and friendship signatures she had collected. "I love going on the missionary trips," she told me, "It is working for more than a paycheck."
The rest of the trip to my daughter's home was a little different. I put away my magazine for a while and paid attention to the people around me. One 86-year-old woman was traveling to Frankfurt, Germany, to see her son. She appeared frail and shy when you first looked at her, but when she talked about all the places she had traveled since her husband passed away,
I saw a woman with passion and courage. The airline attendant was from Boston and had barely escaped the tragedy of 9/11 by changing her mind at the last minute about working the flight to New York.
A young couple looked at us apologetically and explained that their baby was teething when they couldn't get her to stop crying.
There are times when we want to be alone, even when people surround us, but sometimes, when you let people touch your life with their stories and smiles, it helps you see them as more than occupants.