Our Crafty Gift Moments
Previous Story
Next Story
Crafty gifts are usually unique because the person receiving the gift knows that the giver makes an extra effort to show how much they care. My youngest son still has a quilt that his grandmother made him when he was 8 years old. He was so excited when he woke up one morning at her house and found it lying on his bed. She sat up all night to finish it so he could take it home.
When my daughter was expecting our new grandson in September, she painted his room a bright blue with red trim and had drawn animal characters on the walls. I thought it would be a special gift to quilt a baby blanket to match his room.
With my friend guiding me, I visited the fabric shops in town and was amazed to see that several offered quilting classes. Today, you can go online for these same classes. The quilts displayed on their walls were so beautiful that I had my doubts about whether I could complete the project, but my friend assured me I could do this.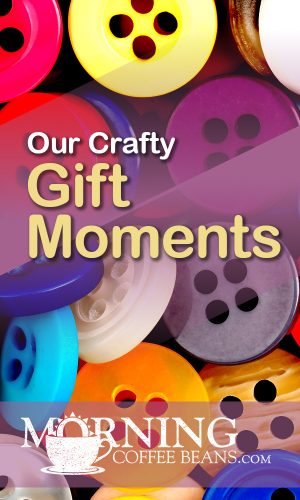 I picked out an animated piece of jungle fabric to cut out the animals and some additional bright colors to frame around them. After I framed each animal piece with strips of colorful fabric, it became a block, and then I sewed the blocks together.
I worked on it each evening and found a very relaxing task to do at the end of a busy day. Seeing all the colorful strips scattered on my table and some falling on the floor, I was reminded of another time when bright colored pieces of material and a crafty idea brought out emotion in someone I love.
It happened one snowy day in Minnesota when I was repairing a pair of jeans for my husband. The weather was cold, and the snow was relentless. The children could not go outside because the wind chill factor had fallen below zero.
I was running out of activities to entertain them with, so I decided to let them play with my sewing supplies while I repaired my husband's work jeans' back pocket. They pulled out buttons, ribbons, and bright-colored patches I used to repair their play clothes. When I got the pants ready to work on, I realized I was out of the blue jean patches. The children suggested we use their colorful patches to fix their dad's pants.
Being stuck inside and feeling our creative juices flowing, we decided to cut a red patch in the shape of an apple. It was presentable, even though it was red, but we decided to give the apple a little character with time on our hands. We cut out a bent brown stem and bright green leaves to add to the apple.
I knew this was pushing it a little, but the day was young, and the children needed more entertainment, so we added a cute wiggly worm with glasses coming out of the apple. It seemed like a good idea at the time, and it made our long day inside more bearable and enjoyable.
My husband came in after the children were in bed that night, and I forgot to tell him about his new patch. The next morning he got up in the dark and found the work jeans he had asked me to repair. Not wanting to wake the children or me, he could feel the pants had been patched and got dressed in the dark and left.
That evening when he came home, he was very agitated. He took his pants off and came down the hall, looking at them incredibly. The children ran to him and asked him did he like the pretty patch we made.
Looking at them with one look and at me with an entirely different look, he says, "yes, of course, he did." However, when they were out of hearing range, he told me it had been a miserable day because all the other guys on the construction job had teased him about his bright red apple patch and the wiggly worm grinning at everyone all day. What was cute and funny to the children and me was not funny to him.
When I finished the top of the quilt I was making my grandson, which looked similar to a box of animal crackers, I began adding the batting to make it soft and then a bright blue backing. Even though it was my first quilt, I was happy because I knew my daughter would be excited about our grandson's welcome gift.
My friend told me to save all the left-over fabric pieces because I could use them to make another quilt, but I am not sure my next one will be so colorful. I thought about other crafty things I could do with scraps of colorful fabric, but I guess repairing my husband's jeans would not be one of them.