Our family and social distancing
Previous Story
Next Story
Our children live in three different states, and we are hours away from each of them. This week our youngest son needed some medical supplies, and we offered to drive them to him.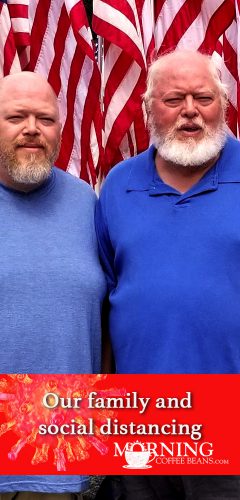 He was worried about our travel and being in contact with us because he is still working around many people.
After a lot of conversation, we finally decided to meet halfway because he knew if we drove to his city that I would need to see our grandchildren. Like other grandparents right now, we are not doing that during this time of social distancing.
On the way down, he called on the car phone to check our meeting point, and while on the phone, he talked about his feelings during this challenging time while I listened.
"You know, Dad, he said. As a pastor's family, we learned to smile during difficult times to be of help and bring joy to others. "
"I think we learned to overcome our fears and not suppress the pain, but to fight it. As an adult, this has served me well because I can get through hard times."
His next sentence was a little harder to say because he was choked up with tears, and he said, "But Dad, I can't hug you when we see each other today because I've been everywhere and I don't want to cause you any harm."
At that point, he cried, and so did my husband. But I was surprised when my husband answered him.
"Hey, son, in Vietnam, I had a job to do. We had to stay fit and alert. There was always the possibility that a rocket was going to blow me away, and so be it."
"That's what I mean, Dad. I'm not going to put my dad in danger by hugging a man who made it through Vietnam," our son said.
My husband replied, "Let me tell you something, son. Once when we were being fired upon by the enemy, I looked around to see my buddy on his knees, praying. I said to him, get up, Dillon. The time for praying is over. Now is the time to trust God and act on those prayers!"
He went on to say, "We have to remember that God has not given us the spirit of fear, but of power and love and a sound mind. The power comes in when we know the facts, the sound mind reminds us to use sound judgment and personal discipline to take care of ourselves during this pandemic of the Coronavirus, and the spirit of love allows us to reach out to others. "
By this time, we were near the rendezvous point, and my husband said, "Son, what matters most to me today is that I see my children, and when I get there, I'm going to hug you because you need it."
And when we stopped at our destination, my husband got out of the car, walked over to our son's car, and opened the door for him. Our son stepped out, and my husband gave him the package we had for him and then hugged him.
They both cried, and I did, too, watching a grown man hug his grown son and trusting God that they would be OK. And then I gave each of them a squirt of hand sanitizer.
I am not advocating banishing social distancing. I know this story resonates in the heart of so many families: the need to be near each other and the anguish of not being able to share our lives right now.
It is a time to do what is best to protect ourselves and others against this hidden enemy, and it is a time to trust God.