Prayer and the Coronavirus
Previous Story
Next Story
My husband and I were eating dinner in a local restaurant enjoying a nice Sunday meal a few years ago. There were several couples from the church present. Two tables over, one couple was having trouble with their small child.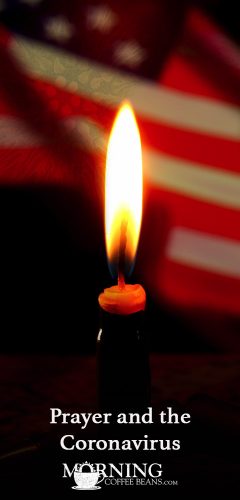 The father asks, "Do I need to take you to the bathroom?" "No," the toddler replied. However, the little boy continued to behave unrulily.
Finally, the father politely picked the child up and headed for the bathroom. Immediately, everyone in the restaurant heard a small voice pleading, "pray, people, pray."
It wasn't a small voice that asked the people of this great country to declare March 15 a national day of prayer last week. But instead, it came from the oval office of the President of the United States.
This morning, as my husband prayed over our breakfast, he also prayed for the President, our leaders, and our country.
We talked about how Dr. Oz recommends sleep, exercise, and Vitamin C to boost our immune systems against the Coronavirus or COVID-19.
The CDC (Centers for Disease Control and Prevention) has given us instructions about how the virus spreads, how to protect ourselves, and what to do if we become sick, but we still don't know everything about this virus.
But we do know, as a Christian couple, that prayer makes a difference. Sometimes that difference is a change in the situation, and sometimes it gives us the strength and wisdom to know how to navigate those situations.
The President has done everything in his authority to protect the American public.
He has put together an amazing team of medical experts. He has closed the borders. He has prevented entrance into our Nation from those areas affected by COVID-19. He has instructed his staff to educate the public on the best ways to defend ourselves, for example, social distancing and washing our hands.
Now the President has enlisted you and me. Our Nation is in distress, "Pray, people pray!"
While much of the media continues to dominate our lives with doom and despair, the President has engaged all the available resources.
The most powerful resource he has asked us to join him in his prayer–not just on March 15 but every day while we are dealing with this national health epidemic.
First, we can pray for our President. I know that we live in an age of political divide, but as Christians, we know that prayer can change things, and it is time to come together in prayer.
In the Bible, the apostle Paul instructs us to pray for our governing leaders in 1 Timothy 2:1-3, "that we may live peaceful and quiet lives."
Together we can pray that God will direct the President's decisions, that congress will expeditiously pass the necessary legislation, and that the medical team is leading us through this deadly pandemic.
We don't have to like our leaders in this country, but we need to pray for their leadership qualities because they make decisions that affect each of our lives.
As the great Nation's people, our greatest tools are prayer and the freedom to vote.
As funny as it was at the beginning of my story, here is a heartfelt story of a 6-year-old girl teaching her brother a Bible verse to help ease his fears after seeing the hysteria on the news about COVID-19.
Her mother said that her son has crippling anxiety due to his autism diagnosis. She told a news station, "We watch the news every day, and he was watching it and was taking in all the fear and panic…it just made him so scared."
His little sister noticed her brother was tensing up, and she quickly grabbed his hand and said to him, "Remember, For God has not given us a spirit of fear, but of power and love and a sound mind." (2 Timothy: 1:7)
Let us remember to pray and not to be afraid as we share a prayer that unites us all for our country, written by Irving Berlin in 1918
While the storm clouds gather...

Let us swear allegiance to the land that's free

Let us all be grateful for a land so fair,

As we raise our voices in a solemn prayer

God bless America, land that I love

Stand beside her and guide her

Through the night with the light from above

From the mountains to the prairie

To the oceans white with foam

God bless America, my home sweet home

God bless America, land that I love

Stand beside her and guide her

Through the night with the light from above

From the mountains to the prairies

To the oceans white with foam