Sarcasm Can Leave Emotional Scars
Previous Story
Next Story
When my friend walked by my desk looking sharp in her stylish black suit, I remarked how great she looked. She said she had just come out of a senior management meeting. "Is that your senior management suit?" I asked. We laughed, and she would say something funny to me about my casual dress.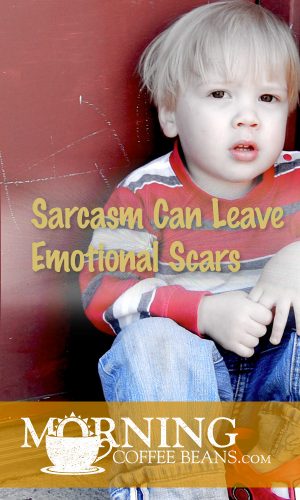 We were a little sarcastic, and it was funny. It lightened up our day because we were friends and wouldn't do anything to hurt each other.
But there are times when sarcasm hurts. Even the word can leave a bad taste in your mouth when you say it, mainly when used to hurt others.
Webster's dictionary defines sarcasm as "a sharp utterance designed to cut or give pain." The Greek form of this word, "sarcasm," means "to tear flesh, bite the lips in rage, sneer."
Wow, all that in a tiny word.
Our daughter and youngest son used to play the game of sarcasm often to get at each other when they were younger.
Our youngest would say, "Mom, we finished the kitchen," and His sister would retort, "We, my foot!" Her words agitate her little brother, and he sneers back, "Oh, sure, little Miss Perfect did it all by herself." And on and on it would go until I would have to call a halt. You get the picture.
Now, imagine this scene in a work setting or marriage intimacy. It could be very destructive and painful. Sarcasm is like a bee sting. When the bee stings, the poison causes immediate pain and inflammation. Once the pain is there, it is hard to take back; even when you pull the stinger out or say, "I was just kidding!"
A schoolteacher friend said her philosophy is, "If it came out of your mouth, you probably had it in your heart." So, even though I would call a halt to our children's bickering and make them apologize to each other, one sarcastic remark would start an avalanche of bad feelings between the two of them that lasted for days.
Sometimes, sarcasm begins the emotional separation between two people who love each other in marriage. The one who says the first sarcastic remark is usually in control, and the other either fight back or withdraws.
Our youngest son avoided his brother and sister when they were sarcastic. He wasn't good at it. He couldn't think of a quick, witty remark to say back and often walked away, feeling hurt.
I understood how he felt because when I lived in a college dorm, I spent many evenings in the library alone, avoiding the sarcastic games my friends liked to play. They would laugh when I tried to tell them some of their remarks were hurtful.
Needless to say, after a while, I made new friends. "That doesn't mean everything in life should be serious, and friends can't joke and tease each other," my schoolteacher friend told me. "It just means maybe that's why we have two ears and one mouth. We need to do more listening and less talking."
.
.