Take time to enjoy mornings
Previous Story
Next Story
Warning
: DOMDocument::loadHTML(): Tag wbr invalid in Entity, line: 18 in
/home/customer/www/morningcoffeebeans.com/public_html/wp-content/themes/anioncreative/single-post.php
on line
37
One morning I was getting the children ready for school. It was the usual busy morning with the kids running around to find their socks and school books. I was late for work, and the bus was due soon. I felt my job as a mom was to make sure everyone was nicely dressed, fed, and thoroughly prepared for the day ahead.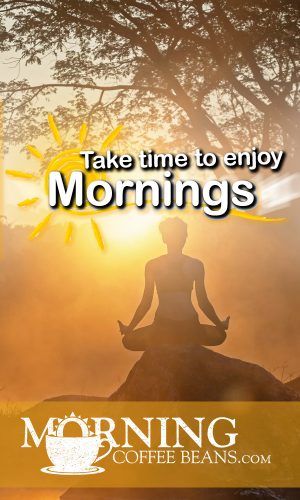 I'm not even sure what I was making for breakfast. I know it was fast. The children were not moving as quickly as I thought they should, making me irritable. As many mothers do, I gave orders left and right.
My daughter came into the kitchen and said, "Mom, would you come with me a minute."
My answer was, "I don't have time. We are all going to be late. You will have to find your stuff this morning." Sound familiar? However, she was persistent. Finally, her brothers joined her in coaxing me out of the kitchen. Consequently, after much protest, I agreed to go with them if they would hurry up.
They asked me to close my eyes when we entered the living room. I was having a bad morning, and this exercise was taxing my patience, but reluctantly, I agreed. The children took my hand and led me onto the front porch. We lived in a rural area with lots of woods around us. They instructed me to keep my eyes closed and breathe through my nose when I stepped outside.
Surrounded by three anxious and excited children, who might have been late for school, I took a deep breath. The smell brought tears to my eyes. The fragrance of honeysuckle, enhanced by a humid morning, filled my entire being.
At that moment, I realized that I was going too fast and not enjoying what I had. I was so busy trying to ensure everything was ready for school and work that I failed to see their need for peace to begin their day. So, I stopped everything, wrapped them all in my arms, and we enjoyed the moment together.
When we went back inside, everyone had their things ready, we had breakfast together, and I drove them to school. I was a little late for work, but we turned off the TV early that night, and I told the children what I needed them to do to help me get ready for the mornings.
Each one laid their clothes, socks, and shoes out. Their books were put on the table by the door. I signed all the school papers, planned what we would have for breakfast, and even made a "to-do" list for the following day.
The following day we had breakfast on the front porch. Sounds impossible, right? It wasn't. It just took a little planning and family teamwork.
We often had to remind ourselves to slow down and enjoy each other, but it always made a difference in our home and school lives.
I found out that my youngest son, who has (ADHD) Attention-deficit/hyperactivity disorder, had much better days in school when we had peaceful mornings at home.
Children need a peaceful, secure home life filled with hugs; I love you's, compliments, and kindness. Oh, and lots of laughter!
Our children are grown now and have their own families. Yet, they try to raise our grandchildren in a world cluttered with noise, confusion, and digital distractions.
There doesn't seem to be enough time in the day to do everything they need. That's why occasionally, I have to tell them the story about the time they had to remind me to stop and smell the honeysuckles.
They always smile.
| | |
| --- | --- |
| | |