Taking Care of Yourself
Previous Story
Next Story
The flight attendant stood at the front of the plane mechanically, giving safety instructions for the flight. It was apparent that she could probably give those same instructions in her sleep because she had done it many times.
I had heard them many times before, but something she said caught my attention this time. "In the event of an emergency, the oxygen mask will drop from overhead. Put the mask over your nose and mouth. If you are traveling with a small child or an infant, put your mask on first, then help the child."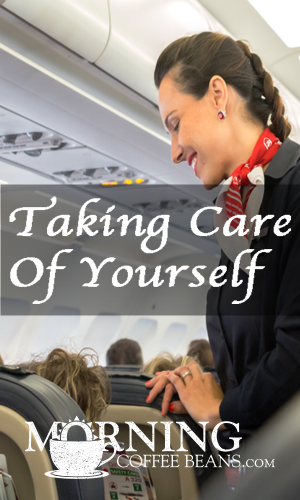 It would be easy to think that the responsible thing to do would be to help the child with their mask first and then grab the dangling mouthpiece for yourself, but what she said made sense.
A lack of oxygen due to a depressurized airplane cabin would cause hypoxia, a lack of oxygen to the brain. It would only take approximately three minutes without oxygen for a person to lose consciousness or even suffer a heart attack. So how much help would they be then?
When I arrived at the conference I was attending, a speaker on time management emphasized the responsibility of taking care of yourself first–before trying to care for all the other people in your life, such as families, jobs, and friends.
For some, that behavior is not always natural, especially if that is not what you saw in your family when you grew up.
I cannot remember my mother taking care of herself before she took care of us. The memory I have is of a woman who rose early to build a fire, milk a cow, cook breakfast, and get us off to school and work.
While we were gone to school, she cleaned the house, wash clothes, hung them on the line to dry, tended a small garden, fed her chickens, canned food, made our clothes, and had our meal prepared when we all returned in the evening.
Maybe not all in one day, but those were ongoing activities that took place each day.
I can only remember her buying one new dress and relaxing only when she was planting flowers or watching television at night, which she would have gladly given up to read us a book.
I also remember her having many health problems, but she was too busy to do anything about them, even when my older brother would try to take her to the doctor.
My mother had breast cancer that resulted in a mastectomy on her left breast before I was born. I remember because of the foam pads, she put into one side of her bra every morning. She also had high blood pressure and died of a stroke at age 52, when I was 13. She may have lived to see us all grow up if she realized how important her life was to her and us.
I am sure our mother loved us, but she didn't understand that taking care of her health was a way of loving us. If she had, that would have given us many more years with her, which my siblings and I needed the most.
When the conference was over, I visited my daughter for a few days. One morning I awoke to the sound of soft music downstairs. I went to the nursery where my granddaughter was playing in her bed.
Thinking my daughter didn't know she was awake, I dressed her and carried her downstairs in time to see her stretching her body to the rhythm of a popular tune.
"I guess you didn't know this little girl was awake, did you," I teased. "Oh yes, I knew she was awake, but I try to get my yoga exercises in before I get her up in the mornings," she said.
Motherhood makes you think that the more you give to your family, the better you love them, but if you aren't strong, rested, and healthy, the people you love may not be receiving all they need–and that is you.
I watched the next few days as she cared for her child and her home. She ate well, exercised, read books, spent loving time with her husband, and kept her mind stimulated with some freelance medical writing when her daughter went down for her naps. As a result, it was apparent that our 20-month-old granddaughter was a happy and healthy child.
October is breast cancer awareness month. My mother didn't die of breast cancer, but my oldest sister did.
She went in for a mammogram a month or so before her 70th birthday. In her follow-up appointment, the doctor told her the mass that showed up in the mammogram was probably benign, but she should have a repeat mammogram in six months.
She didn't go back for the follow-up mammogram.
One year later, she died of metastatic breast cancer that started in her breast, spread to her lungs, and then to her liver.
The fact is that 1 in 8 women in the United States will be diagnosed with breast cancer in her lifetime.Breast cancer is the most common invasive cancer in women and the second leading cause of cancer death in women, after lung cancer.
I am one of those women. I will begin treatment soon. Not only will I do everything I can to survive this terrible disease, but I will use everything I learn to help other women fight for their lives.
In this column today, I want to encourage you to take care of yourself first because your life is so important to those who love you.
Please schedule your checkups and your mammograms. Take time for yourselves. Plan time with a friend. If you don't have a friend, become a friend to someone. Enjoy and indulge in the woman you are.
My mother probably never imagined that she would ride in an airplane. Still, if she had, I wonder if she would have gotten the same message I did when the airline attendant demonstrated the need to save yourself by putting on the oxygen mask before trying to save the child next to you?