Be careful what you wish for
Previous Story
Next Story
While on a road trip to Alaska, my photo fantasy was a big black bear standing on his hind legs looking directly into my camera lens.
According to the Alaska Dept. of Fish and Game, black bears rarely attack humans unprovoked. Usually, when they stand erect, it is better to look at you and show their size as a warning not to get too close. I had no intention of getting too close or feeding or petting a bear. I just wanted a great photo.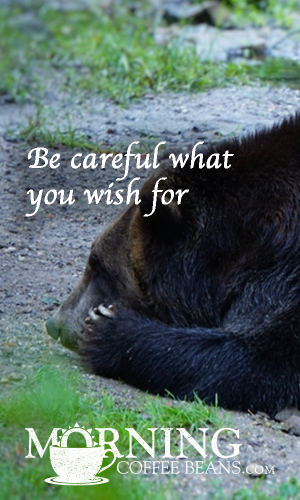 Black bears and their cubs were plentiful on the side of the road as we drove our RV through the Canadian Rockies into Alaska. Sometimes they would swing their big blackheads our way, but usually, they just ambled off in the other direction.
While visiting Fish Creek in Hyder, Alaska, both grizzlies and black bears played with their cubs in the water and caught pink salmon with their claws right below the bridge where many other photographers and I stood at a distance, hoping to catch a perfect shot.
On our way to Denali National Park in Alaska, we stopped about 50 miles south at Bayer's Lake to catch a glimpse of some reported Trumpeter Swans.
We were excited to see them because we had been told that they are considered endangered. They are the largest swans in the world and the largest waterfowl native to North America.
With their snow-white plumage, flat black bills, and black feet, these beautiful swans measure up to four feet in height with a wingspan of seven to eight feet and weigh 20-35 pounds. The male is called a cob, and the female is called a pen.
Their long straight necks allow them to uproot plants in 4 feet of water, and they get their names from the trumpet-sound they make when they call. They were once fairly common throughout most North America and Canada, but market hunting and millinery trade rapidly depleted nesting populations. Their meat was sold as food; their skins were sold in the fur trade to Europe, where they were used to make ladies' powder puffs, and feathers were used to adorn fashionable hats.
After we had set up camp, we took a walk through a narrow path that led to the lake. We hardly had room for our legs to navigate through the thick, waist-high brush. It was near dusk; the air was cool, and the world was quiet except for the sound of a few birds and rustling leaves.
Suddenly we heard it, a sound like a trumpet. I couldn't believe it. It was an unmistakable resonant, loud, trumpet-like call. We began to hurry. When we got to the last brush before the clearing, my husband moved aside and let me go first because, of course, I had the long-lens camera.
When I stepped into the open, sure enough, there they were, the cob, the pen, and three small cygnets gracefully gliding on the top of the water about 20 or 30 feet out. They were stretching and dipping their long necks.
By the time my husband stepped in behind me, I already had my camera in position and clicked as fast as possible. Finally, after a few minutes, I just let the camera rest and gazed at the wonder of those beautiful swans playing on a perfectly blue lake with the gentle light of the sun fading behind the mountains, showcasing it all.
My husband told me he would step around the lake and cast his fishing line for awhile. After he left, I lifted the camera back into position for more shots. I heard a rustle a few feet from where I was standing. I thought maybe it was a turtle,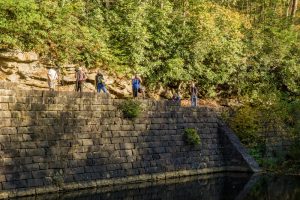 a fish, or a beaver playing in the water.
In a moment, I planned to turn that way and get a few shots, but the rustling got louder. I turned to see what it was. You guessed it. It was a bear. A big black bear.
He stepped up out of the brush at the edge of the water and looked at me. I looked at him. My heart began to race, and without a moment of hesitation from either of us, we turned on our heels and started running in the opposite direction.
My husband stopped reeling his line through the water when he heard me calling his name. He could see I was terrified. "What is it," he asked. I ran right into him, banging my camera into his chest. "It's a bear, it's a bear," I said. "Where," he said. I turned and pointed in the direction of the bushes.
For a moment, I thought we might be trapped with no way out, but my husband check, and the bear was definitely gone. We didn't hear another sound. As we looked out into the lake, we realized why the swans were getting farther and farther away. Their trumpet call earlier was a warning to other waterfowl that a bear was hiding in the bushes at the edge of the water.
After he had hugged me for a few minutes and assured me that the bear was gone, he smiled and said, "Well, did you get it?" "Get what," I asked. "The picture of the bear," he said.
So much for being brave and taking photos of a wild bear. "No," I said. "I didn't get a picture, but I bet when that bear got to the top of the hill, he thought, Dang! I'm supposed to be the scary one!"
The good news is I have a new photo on my wall of a family of the beautiful Trumpeter Swans and a great story to tell.