The Best is Yet To Come
Previous Story
Next Story
As I watched the second candle (the candle of Peace) of the Advent season is lit in church on Sunday, I thought of the fork my friend gave me at the very beginning of this Christmas season.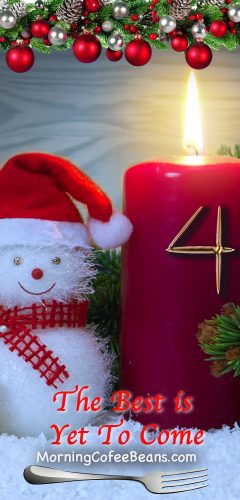 It was something no one had ever given me before–a set of silverware, yes, but not just one fork. However, with the dainty fork that I can wear as a pendant, she gave me a beautiful story to go with it.
It seems a woman had been diagnosed with a terminal illness, and she was given three months to live. As she was "getting her affairs in order," she contacted her pastor and asked him to come to her home to discuss her "final wishes."
She told him which songs she wanted to be sung at the service, what scriptures to read, and the final outfit she wanted to wear. The woman also wanted to be buried with her favorite Bible.
Everything was in order, and the pastor was preparing to leave when the woman suddenly remembered something significant to her. "There's one more thing!" the woman said excitedly. "What's that?" asked the pastor. "This is very important," the woman continued. "I want to be buried with a fork in my right hand."
The pastor stood and looked at the woman, unsure what to say. "That surprises you, doesn't it?" the woman asked. "Well, to be honest, I'm puzzled by request," said the pastor.
The woman explained, "In all my years of attending church socials and potluck dinners, I always remember that as we cleared the dishes, someone would inevitably lean over and say, 'Keep your fork.'
It was my favorite part because I knew that something better was coming, like velvety chocolate cake or deep-dish apple pie, something delicious and with substance! So, I want people to see me there with a fork in my hand, and I want them to wonder, 'What's with the fork?' Then I want you to tell them: 'Keep your fork...the best is yet to come!'"
Advent, which means "coming" in Latin, marks the beginning of a new church year and is a time of expectancy and preparation for the Savior's coming. It is a time that Christians believe came 2,000 years ago with the birth of Jesus, yet they wait expectantly for it to happen again.
The first candle that lighted for the Advent season was Hope. That was what the woman in the story wanted people to see as they said goodbye to her. With only one thing left to give as she ended her life, she gave a symbol of Hope because it was what she felt people needed the most.
The second candle lighted was for Peace. I couldn't help but think of the times that I may have missed that part of Christmas by trying to buy Christmas presents we couldn't afford as a young mother. Children don't thrive on the gifts we buy them, but on the time we spend with them and the unconditional love surrounding them.
Last Sunday, I watched as another couple in our church shared the responsibility of lighting the third candle of the Advent season, the candle of Love. Love is still the best gift to give those around us. We can give it in so many ways, and it feels so good when it is returned.
The last candle to be lit for the Advent season will be the candle of Joy. My fork pendant fastened to my blouse that my friend gave me reminds me that joy is something that I can have during the Christmas holidays and all year long because I know the best is yet to come.