Enjoy the Journey
Previous Story
Next Story
"Stand still," my husband whispered. "I think I've got it." I tried not to move, even though something was scratching my feet. I glanced down to see prickly little bushes pressing against my legs.
He moved in closer, aimed, and clicked, but not quickly enough. The fickle little orange butterfly fluttered from the camera's view to another blossom a few feet away. We tried to follow it but were waist-deep in yellow wildflowers, losing sight of our feet altogether.
"Wait, I told him. Here's another one over here." Then, moving only his upper torso, he turned, leaned down close, and clicked again. "Got it," he said triumphantly.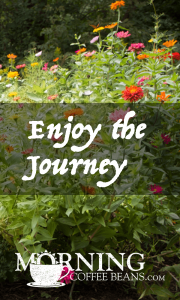 We were photographing wildflowers and butterflies along the country roads in South Georgia on our way to a family reunion. We could have booked a flight directly to the airport, but we decided to take it slow and enjoy the journey on a 22-hour road trip.
Road trips were fun when our children were small, but sometimes they were more interested in the destination than the journey. I remember trying to entertain them with drawing, singing, and games, but our conversations were usually centered on three things; "Are we there yet? I gotta go, and he's touching me." It took a lot of compromising to keep everyone happy.
When we took our first road trip without them, we had to learn how to compromise with each other. For example, I liked taking pictures of flowers, and my husband enjoyed reading historical markers.
On the first day of our trip alone, we read every historical marker from Knoxville, Tennessee, to Williamsburg, Virginia.
It was hot, and I sounded a lot like the children with my complaining, "Are we there yet? I gotta go, and do we have to read another historical marker?"
We finally reached the Jamestown Settlement Living History Museum, where America's first permanent English settlement was founded along the James River. Behind the museum was the James Fort, with a self-guided tour through the first home's relics, store, and even the pulpit and church built in America.
In front of each was a stone marker with a written description, and my husband read them all aloud.
While he was reading, I wandered a few yards away toward the river. Finally, I stepped off the grass onto a sidewalk. Beyond the sidewalk were a rope fence and a dark concrete bank sloping gently into the James River, where the three historical merchant ships used to carry pilgrim passengers and their cargo were docked.
Sitting on the bank and dangling my feet in the cool water would be nice. But unfortunately, I didn't notice the posted sign that read, "Stay on the Sidewalk," so I stepped over the rope.
Instantly, my feet went out from under me, and I landed on my backsliding toward the water. Somehow, I flipped my body over quickly and reached for the rope. I missed it!
However, I finally stopped sliding into the river by digging my fingers into the thick mud on the concrete wall. I called out to my husband, but he thought I was behind him and continued reading the markers to me.
After struggling for a while, I pulled myself up. I could see that my toe was bleeding, my clothes were muddy, and I was shaking. When I looked up, I could see him standing reverently in front of the ruins of the Old Church Tower.
A second call didn't get his attention, so I hobbled past the "Stay on the Sidewalk" sign toward him. When I touched him on the back, he told me about the oldest have taken for the pilgrims to come to America.
I whimpered.
He turned around and looked incredibly at me. I told him what had happened, showed him my bleeding toe and muddy clothes, and asked if we could go now. The look on his face was an utter disappointment, and he asked, "Can we finish the tour first?"
We've traveled many miles together since then. We laugh about the day I almost slid into the James River, but we continue to stop at important landmarks and read the markers, and I try not to wander off.
We also stop to photograph flowers and butterflies, and he sometimes takes the camera away from me to take some photos.
I can't remember all the facts about the places we've visited, nor can I remember all the details of the landmarks in our life, but the journey continues to be the most exciting part of it all.