Connecting With Our Children in the Kitchen
Previous Story
Next Story
Our kitchen was two steps down from the rest of the house. You took two steps down into the kitchen when you walked through the living room and dining room. My favorite place to sit was on those steps.
As a little girl, I would sit and talk with my mother or watch her move about the kitchen with flour on the front of her dress and at the edge of her hairline where she wiped her forehead with the back of her hands when she was making bread.
Some mornings I stepped down into the kitchen and sat on the stool beside the butter churn. Then, with the wood plunger in both hands, I would try pushing the rotating paddle up and down frantically until my arms felt like they were going to fall off my shoulders.
She would tell me to stop churning so fast. "You must get a steady rhythm going," she'd say. Then she would stop what she was doing and take the wood stick that went through the round hole of the lid from my hands and move it up and down with a little twist in a methodical motion for a few minutes. Then, after a while, she handed it back to me and then covered my hands with hers and helped me get a rhythm going.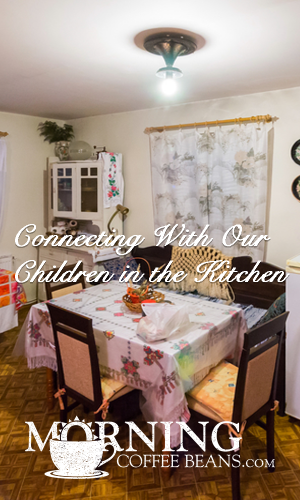 I don't think I ever churned long enough to make butter by myself, but I marveled at the creamy substance floating on top of the cream when she took the lid off. She would dip the butter out of the churn with a wood spoon, wash it with cold water, add a little salt and then fill the butter molds to be placed in the refrigerator to become firm.
We spread the homemade butter on hot bread at breakfast, and I can't even tell you how good it was. Some of our best memories and greatest lessons are learned in the kitchen.
My children hung out in the kitchen when they were little too. Their favorite activity was standing on a chair at the kitchen sink filled with suds while cooking.
Later, when they actually got big enough to wash the dishes, set the table, and butter the rolls, they would talk to me about their day and their friends while we worked together in the evenings after school. I am sure they shared more with me during those moments than any other time when I ask them questions.
Kitchens are warm and inviting and a place where good memories, good food, and important decisions are made. It can be a place where the usual distractions, such as television, cell phones, and computers, do not come between parents and their children, couples, or friends spending time with each other.
One of the girls where I work told me that time in the kitchen is how she and her husband bond with each other. "He is a policeman," she said. "He works different shifts, and when he is home, we like to cook together in the kitchen. We talk and it keeps us close."
Serious conversations and important decisions are sometimes made in the kitchen. If something was going on in the living room and my husband or I said, "Could I see you in the kitchen," our children always knew something important was being discussed.
I have seen the family's best snapshots and most creative artwork displayed proudly on their refrigerator in almost every home I have ever visited. The kitchen is the heart of the home for most families. It is also a place where examples can be set for our children.
Our middle son didn't like helping with the dishes when he was in high school and balked at having to take his turn. Finally, one day when I insisted, he said doing dishes was a woman's work. "You never see dad doing the dishes," he complained so his dad could hear him.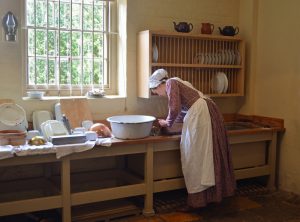 My husband was quick on his feet as he placed a towel around his waist and said, "Well, maybe it's time I start helping with the dishes, too." I didn't hear that many complaints about doing the dishes after that.
Our kitchen was a place where our children learn to be thankful when we taught them to say the blessing and the place they had fun when we played board games with them around the table.
It's nice to see our granddaughter sitting on a stool when my daughter works in the kitchen. She is just a toddler, but her mom gives her something to do, and they talk and laugh and sing together while she works.
I am sure it would be easier to send her out of the kitchen sometimes, so she could get the work done quicker, but I believe my mother was right when she said we need to slow down develop a little rhythm. Memories are made that way.