Are We Teaching Our Children to Lie?
Previous Story
Next Story
One day after school, our youngest son, Jay, seemed fidgety. I could tell something was wrong, but when I asked him, he said it was nothing. Finally, after staring at the TV for an hour or so, he meekly said, "Mom, I have to tell you something." His face was tense and his eyes were sad.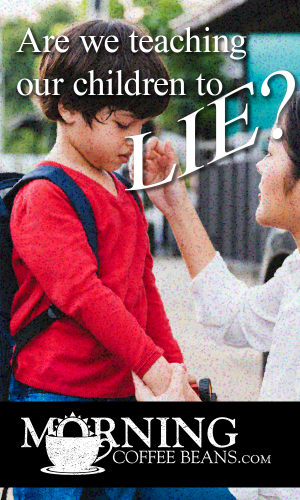 I put everything aside, and gave him my full attention while he stuttered out his words. "The teacher sent you a note home," he said. I asked to see the note. The teacher had written that Jay had not been turning in his homework, but the note was dated a week earlier.
I asked Jay why he had not given me the note when he first received it, and he said that he knew he would get in trouble. After a talk about his homework and the importance of trusting us with bad news, I asked him why he had decided to give me the note, since the teacher had not followed up. His words were profound to me and I have never forgotten them.
"I knew I was lying to you, Mom," he said, "and I knew that would damage me." I asked him what he meant by "damage?" He explained that he knew that lying to us would damage our relationship, and he did not want that, because he always wanted to feel close.
I think of that conversation a lot. Jay was about 12 or 13 when this happened. He was old enough to understand truth and consequences. He understood that his action would require a consequence. Lying would separate him from a peaceful relationship with his parents.
Do parents encourage their children to lie? Maybe they see we are upset. When they ask us if everything is all right, we don't want to upset them, so we assure them that all is well. In turn, when our children are upset or dealing with a problem, they have learned from us that they should keep it inside and just not talk about it.
This can cause even greater problems than the initial thing that upset them. What if they see us lie? Let's say we tell them to answer the phone and say we are not home, when indeed we are. Are we teaching them to lie? Children take their cue for their parents. Later when the child asks us to do the same for them, we may say, "Of course, you're home."
Do parents put on blinders? Another time when our son was about 15, he went to the mall with some friends. They all decided to see if they could steal something and get away with it. When he came home, I ask him where he got his new pants and shirt.
Once again he told the truth and I had to decide the consequences. It was very difficult. I had worked all day, it was late and I was tired, but I drove him back to mall, and made him return the items. Then we went to visit the other parents. The boys assured their parents that they had not stolen anything, and the parents decided it was easier to believe them than to check it out.
If a child is caught in a lie and he suffers no consequence, then he assumes it is OK with the parents to do wrong. According to Elaine McEwan, author of I Didn't Do It, we don't need to dishearten the child by ferreting out every bit of untruth.
She writes that this kind of authoritarian approach often pushes the child to become a chronic liar. She says another wrong way to deal with lying in a child is making the repercussions so great that your child will lie rather than face them. If you tell your child or teenager that if they ever mess up, you will disown them, they will lie. The consequences may be too frightening for them to face.
We need to teach our children how lying damages our lives and our relationship with others, but they need to feel secure in our love for them, even when they have been dishonest.