The Power of Sharing our Family Stories
Previous Story
Next Story
I had never traveled anywhere alone. I know riding a bus from Macon to Atlanta, Georgia, with strangers was not long-distance, but it was frightening and exciting for an 18-year-old.
My mom died when I was 13, and I lived with my brother and sister-in-law. The trip was a graduation gift to visit my aunts, who I hardly knew. They thought it would be good for me to hear my mom's stories and learn what she was like as a young girl.
The bus arrived late that night at a bustling bus station on Peachtree street, but no one greeted me. My aunt and uncle could not drive after dark, so I had to take a taxi to their home near Stone Mountain.
The taxi driver was a little frightening. He seemed to have taken a long way around for what was supposed to be a 15-minute drive, but when I lied and told him my uncle was a policeman, he suddenly found the right street, and my aunt was standing on the front porch waiting for me.
I spent the next few weeks visiting other aunts and uncles and listening to exciting and beautiful stories about my mother. Their stories gave me a new picture of the woman I called mama.
My aunts showed me yellowed photos taken when she was a young, red-headed girl. They told me how she liked to sing in the church choir, how shy and stubborn she was, and how she and my dad eloped before finishing high school. It was a gift I wished I had received much sooner.
I know there are many ways to trace your roots, genealogy, and ancestry and get the facts, but nothing replaces the stories we can share.
Research shows sharing family stories can increase well-being, reduce anxiety and depression, reinforce feelings of closeness among family members, and build resilience for navigating life's routine ups and downs.
These story moments can happen anytime families get together. When our children were younger, it was fun to hear what their dad was like as a child when we visited my husband's family.
Their view of him was different from ours. We saw him as a husband, a father, a pastor, and a man who worked hard for his family. They saw him as a fun, loving boy who had somehow stumbled into becoming a man.
They watched my children's faces when they heard their dad's stories touching my heart. I see the same look on our grandchildren's faces when their aunts and uncles talk about their moms and dads.
One day our youngest son called our house in total exasperation. His oldest son said he was going to the bathroom while in a pizza place. Instead of going to the toilet, as he said, he decided to check out the red button on the emergency exit door. Of course, the alarm went off, and our grandson was in trouble. "He is so mischievous, mom," my son told me. "Sometimes, I don't know what to do with him."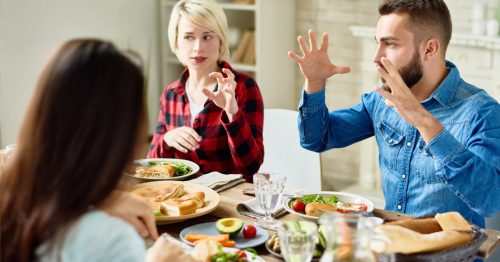 When we related the story to his brother and sister at the next Thanksgiving gathering, it was their turn to remind him of when he decided to satisfy his curiosity by pulling the emergency alarm at the hotel where we were staying. Another time, his curiosity stuck his knee between the column and the wall at his elementary school. Again, our grandson listened with great interest.
Stories are the secret sauce that binds our families together. When a child hears that their parents did silly things and made mistakes, they can accept their own mistakes and learn from them.
When they hear stories about their grandparents, aunts, uncles, and cousins, their world becomes more significant and safer in their hearts because they know they are not alone.
When I read the Bible, I love that Jesus used parables, a Jewish storytelling style, to teach people and make a point. That is where I learned the value of using a story to make a point. It is a powerful tool.
As the tenth of eleven children, I wasn't close to my older brothers and sisters. When I married, I moved away, and we had nothing much in common for a while, but when we came together with our children and grandchildren, it was easy to see how very much alike we were and how our childhood had defined the people we had become.
I wish parents understood how much children need to hear the stories their families have to tell, even if they are the same stories repeatedly. It explains or reinforces the foundations of their lives. The stories may be entertaining and sometimes sad, but they are also essential for informing.
Stories tell us our history, who we are, what sort of people we come from, and why certain events happened the way they did. They remind us of the legacies that we must live up to or, in some cases, must change. But, unfortunately, stories have to be told, or they die, and when they die, we can't remember who we are or why we're here.
They give us a context for our lives, assuring us that we are part of an ongoing story, an epic that began long before birth and will continue long after we are gone.