The Power of Touch
Previous Story
Next Story
It is hard to sleep at night when you are angry with your spouse, especially if you are trying to stay on your side of the bed.
Recently, I had an idea for a column about touch–the importance of feeling human touch. Then, while I was having a massage to help relieve some taut muscles in my neck, the idea came to me.
I was lying on my stomach with my face resting downward in a doughnut hole pillow. My shoulders began to relax as skilled hands targeted the muscles running from my neck to my shoulders. The warm, soothing oil gently washed away tiny drops of stress with each stroke administered by the experienced therapist.
The relaxing instrumental music playing quietly in the background was a cue to let myself go and relax. I tried to make my mind go blank, but my thoughts went to all the people who spend days, weeks, and even months without ever feeling the touch of a human hand on their arm or shoulder.
I spoke to a woman who talked about not having any human contact after her husband died. She told me that she went go to the beauty salon to get her hair washed just to feel the physical contact with another person.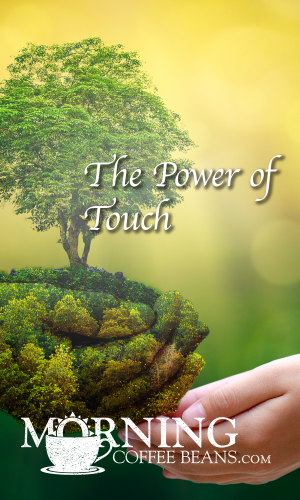 Too often, we underestimate the power of touch. Sometimes people sink into depression because they miss the touching hands of their companion.
Medically, therapeutic massages can be especially beneficial to seniors, from those with depression, arthritis, diabetes, circulatory problems, and high blood pressure to headaches, stiff joints, and sore backs.
According to national statistics, 29 percent of all massage patients are 65 years old or older. In addition, 46 percent of female consumers and 23 percent of male consumers also got a massage last year.
Massage therapy reduces the heart rate, lowers blood pressure, increases blood flow, and relieves joint and body stiffness. It also releases endorphins, which act as a natural painkiller in the bloodstream.
Infants and children who are touched thrive and survive painful procedures more quickly than those who are not touched or held.
You don't have to be an older person or a child to benefit from touch. Occasionally, someone will pat my back or touch my arm on a stressful day, and I can feel the tension slip away.
I missed the touch of shaking people's hands during the Covid-19 pandemic.
Research also shows that touch can communicate multiple positive emotions: joy, love, gratitude, and sympathy. These emotions improve our health, help us deal with adversity, and assist us in building strong relationships.
You would think during the Covid era that fewer people were getting messages. But that's not true. I talked with many massage therapists who say they did not decline in customers.
"We wore masks, as well as our clients, she said. We are all vaccinated, and we keep our facility sanitized. In fact, we were very busy because massage therapy helps to relieve the stress and anxiety," they told me.
While I was completing this column, I decided to do some additional research on the power of touch. However, when I tried to sign on, the computer kept hanging up. So I blamed my husband for downloading too much information that slowed the computer.
As silly as it was, I went to bed irritated at him. He knew I was annoyed, so he settled in on his side to let me get over it. I wrapped the blanket around me, pulled my pillow under my chin, and tried to settle down and go to sleep.
However, after tossing and turning for an hour, I realized my best research might be lying right there beside me. Sure enough, when I turned over and wrapped my arms around my husband, all of the tension left my body. I slept like a baby.