Things Can Change Quickly
Previous Story
Next Story
Things can change quickly. Palm Sunday starts with people laying palm branches, a symbol of victory, triumph, and peace, for Jesus as he rode a donkey into Jerusalem.
It was an exciting day. Jewish people from all over the world came to Jerusalem to celebrate Passover. They were crying, 'Hosanna! Blessed is the one who comes in the name of the Lord! Blessed is the coming kingdom of our ancestor David! Hosanna in the highest heaven!' (Mark 11:9-10).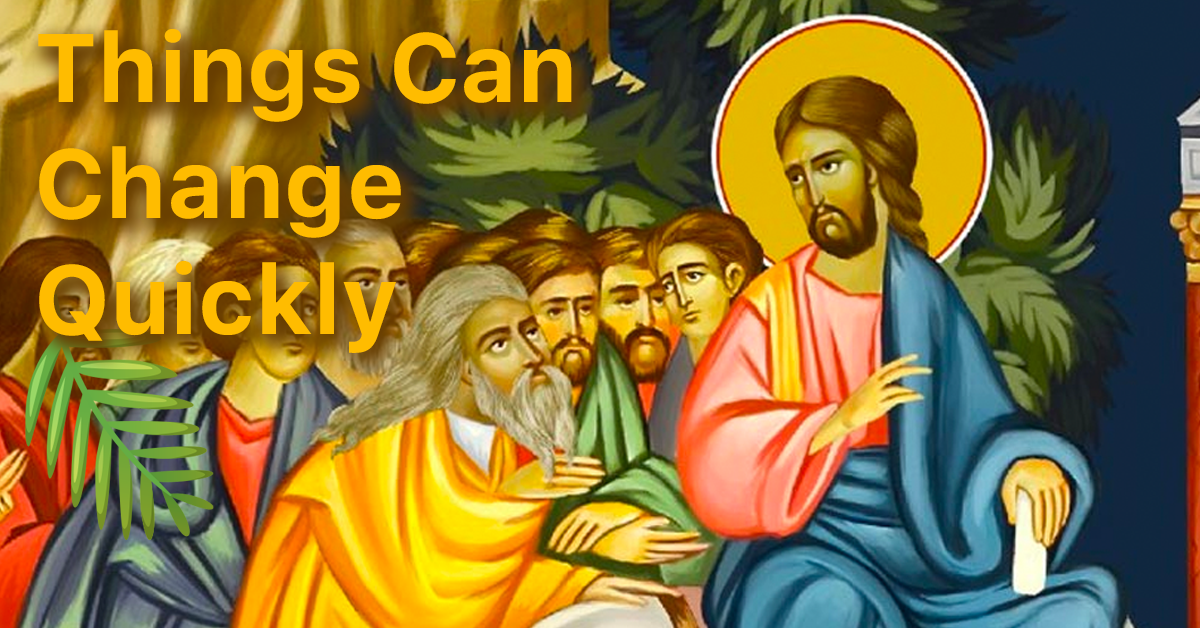 Ironically, these same voices that greeted Jesus as Messiah and King would be the same ones that shouted 'Crucify him!' just a few days later on Good Friday.)
Most of Jesus' followers believed the kingdom of God would come when Jesus entered the city?even His disciples.
They expected their Messiah to be a great political and military leader coming to set up a Kingdom in Jerusalem and set them free from the tyranny of the Roman Empire.
But that was the people's plan, not God's plan.
Things can change very quickly. In less than a week, Jesus went from a triumphant hero adored by thousands to an agonizing death on the cross.
God planned to send his Son, Jesus, to earth to reunite us with Him through the ultimate sacrifice: his own life. We could never live a life worthy of God on our own. So Jesus lived a life without sin on our behalf.
We all have plans, but our plans are not always God's.
My husband and I loved the church he pastored in North Georgia. It was a beautiful place to live, our children were happy there, and we hoped to be there as long as possible.
However, one day our plans were changed. He was reassigned to a church in Tennessee. Our children were devastated, especially our daughter.
In the 10th grade, she had close friends and was involved in many school activities. She was looking forward to graduating with her class.
I didn't understand. I questioned the decision. We knew this would be hard for our children, but we chose to have faith in God's plan for us.
What we didn't know: Our daughter and her best friend, Anna, were having dangerous fun on the weekends.
The game was called "hill-topping." It was the act of accelerating a vehicle as it approached the top of a hill, causing the car to go airborne. Of course, our daughter always sat in the front seat beside her friend.
Then, a few months after we left Georgia and went to Tennessee, we received a phone call from her friend's parents.
One of these fun weekends of hill jumping ended her life. Anna, who always drove, and another friend sat in the front seat our daughter usually occupied. They were both killed (decapitated). Another friend died in the back seat. Only one friend survived.
The Palm Sunday came expecting Jesus to set up His kingdom on earth. Many were disappointed and angry, but those who had faith in God's plan and didn't follow the crowd rejoiced.
Here's a thought to ponder. "Can faith change God's plans? Or can faith in God's plan change us?"