Things Everybody Should Know
Previous Story
Next Story
"It's important that Everybody knows how to eat French Fries with ketchup and nuggets, and people should know not to bang their head," said Orlando.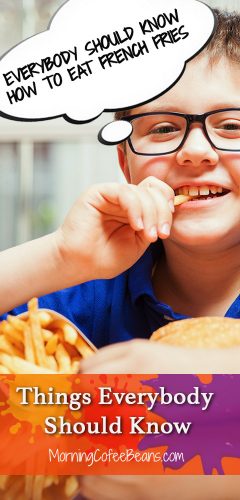 I like to partner with teachers who often hear these words of wisdom from their students. So I hope you enjoy these responses from children in Kindergarten to third grade who participated in a local school writing project, which asked the question:
"What does everybody need to know?"
The letters reminded me of one of my favorite books. All I Really Need to Know I Learned in Kindergarten, by Robert Fulghum.
It's funny how we grow up and forget the simple things that make us happy and survive.
"Everybody should know how to fish," wrote Stephen, "so they can learn to have fun."
Kyle very wisely tells us that everyone should know their manners. "If you are out in public with your parents and you don't have manners, you could make people think that your parents didn't raise you right."
Ever heard that before?
Ned warns, "Everyone should know that it is important to keep your mouth shut because sometimes not keeping your mouth shut could bring major pain, punishment, or embarrassment."
Nathan takes it a little further by reminding us that, Everyone should know when a teacher is getting to their boiling point.
Alejandra describes what everyone should know about being a real friend. "A real friend is someone who will always be there for you and never fail you when you need them," she writes." In addition, a real friend is someone you can talk to and play with and call on the phone."
Noel wrote that Everybody should always listen to their parents. Courtney cautions us that this includes," Everybody should know not to run across the street without looking first" You should know when your birthday is, "wrote Davis," so you will learn how old you are and when to celebrate" and"You should know how to count" wrote Bryanna."It's essential."
Rebekah wisely writes," Everyone should know that there is plenty of room in heaven for Everybody," and Elizabeth writes, "Everyone should know that God loves them even if they are black, white, brown, good or bad."
Katie says," Everybody should know that their mom and dad love them and would stand up for them" If people keep littering, our whole world will be like a giant dumpster," wrote Caleb."We will be walking in the trash, and nobody wants to do that" Everybody should know that drugs are harmful and they kill you, and they will hurt your brain, and there are consequences when you break the law," wrote 8-year-old Bianka.
Steven wrote that Everybody should drive right and not cause accidents, and Kathryn said everyone should know how to shoot a bow and arrow."It might come in handy," she writes." For example, if there is a war and you had to leave your home, and you didn't have a gun, you could use it to protect yourself."
Hmmm!
Andrew writes that if you want to play basketball, you should learn the rules. Joe said everyone should know how to subtract, multiply, and divide."Everyone should know how to play together," writes Katie, and Daisy wrote that we should all know how to tie our shoes." Everyone should learn to be careful about planes," reports 5-year-old Layla. Finally, Jacob wrote, "Everybody should know how to tell time, because what if you have a job and you are late?"
Valerie says that Everybody should know not to talk to strangers, play with matches, or get too close to the fire.
"Everybody should know their presidents and how to love and respect each other," writes Amanda, and Catherine wrote that everyone should know school is important because when you learn things, you get better.
Sammy said Everybody should be honest, kind, and careful, and Miguel warned us that Everybody should know what they are doing to others.
Jose wrote that everyone should always try to do the right thing, and Celeste said Everybody should know how to make a sandwich.
There were many more, but one of my favorites was from Jazmine, a 3rd-grade student, who wrote, "Everybody should know how to read and navigate when you grow up, or you might get lost."
I think they are all right. If we remember what we learned and felt when we were children, life would be a lot easier to navigate.

Fulghum said in his Credo, "I realized I already know most of what's necessary to live a meaningful life?that it isn't all that complicated. I know it. And have known it for a long, long time. Living it–well, that's another matter, yes"

One of the last quotes from Fulghum's book reads,
"Think what a better world it would be if we all – the whole world – had cookies and milk at three o'clock every afternoon and then lay down with our blankets for a nap. Or if all governments had a basic policy to always put things back where they found them and to clean up their own mess. And it is still true, no matter how old you are – when you go out into the world, it is best to hold hands and stick together."