Trail Walking
Previous Story
Next Story
When morning came, I felt the trail calling me and daring me to see how different each day was. Sometimes the voice came from inside me, and other times it came from my husband, telling me we needed to get going.
Either way, I got up, dressed, put on my shoes, a jacket that could be tied around my waist when the sun began warming my back, some food and water in my pocket, and off we'd go.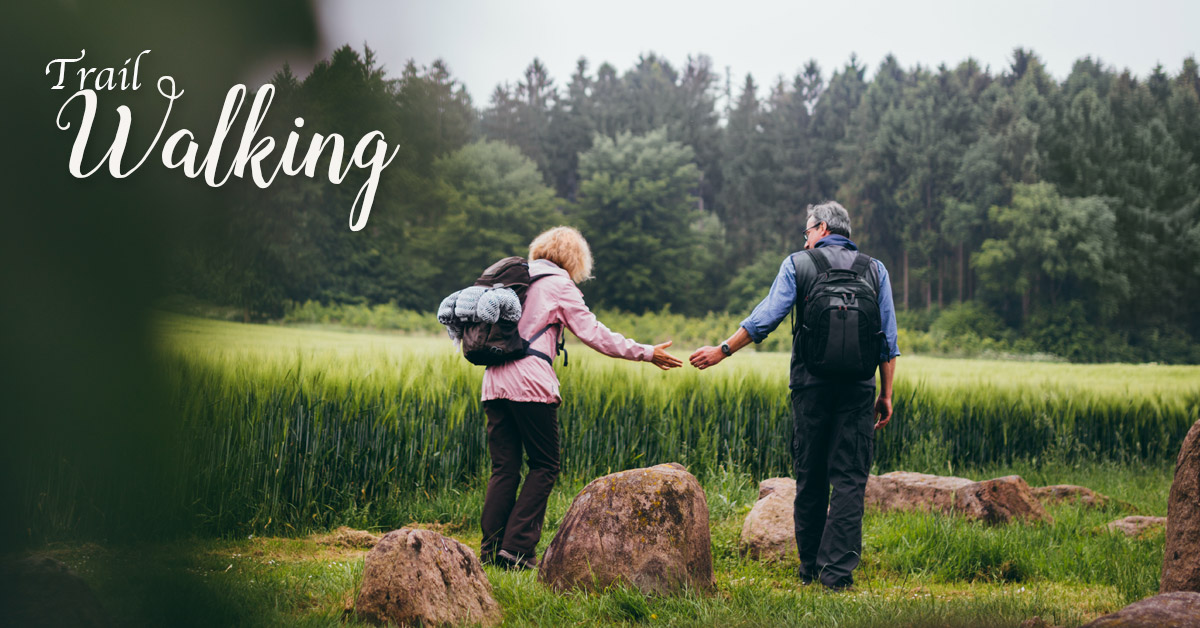 We were living in West Virginia at the time. The trail was one long stretch one way until we reached half the amount of our walking time, and then we turned around and walked back. It was like taking two different routes because what we saw going was other than coming back. It depends on which direction you're coming.
Trail walking has always been relaxing for me. Sometimes I think things through, and other times I let my mind rest while I enjoy what is all around me. The scenery is constantly changing with the seasons. One day it may be cloudy and quiet; another day, birds glide through the sunshine filling the air with their chatter. I am never bored when we walk the trails.
One morning we saw a couple of Mallard ducks playing along a Creek Trail, while on the other side of the road, a Kingfisher scanned a pond in a farmer's field for breakfast. Sometimes horses came to the fence to watch us walk by while camouflaged deer peered from behind trees.
Walking is the best exercise I have ever done. I have had memberships in the best gyms. I have been by a world-famous weight lifter and ran around tracks to stay healthy, but walking is the safest, most effective form of exercise I have ever done.
On my 42nd birthday, I realized I had become 30 pounds overweight. So I planned to walk 20 minutes of my 30-minute lunchtime at work every day, started paying attention to what I was eating, and on my 43rd birthday, I was 30 pounds lighter.
I still struggle with my weight, but walking every day helps me. For example, a brisk walk can burn up to 100 calories per mile or 300 calories per hour. So that means that an eight-mile walk burned up 800 calories. I liked that better than starving myself to lose a few pounds.
Doctors will also tell you that regular walking strengthens your heart, lungs, bones, and muscles and helps your body resist and fight illnesses. According to the Surgeon General, it also increases energy and positively impacts our moods, reducing anxiety and depression.
When we were in Morgantown, we walked some great trails. But we have learned some things that can make trail walking a good experience, like good shoes, a snack, and some water.
The first time we walked Decker's Trail, we walked further than planned. We started at Mellon's Chapel at the six-mile marker and walked seven miles to Masontown at the 13-mile marker.
We had only taken a little protein bar to munch on, and it wasn't enough for my husband, who is a diabetic. So when we got to Masontown, we thought about walking to a restaurant, but once we got off the trail, it was straight uphill, and we were tired. So we had to call our son to come and contact us. Since then, we have been careful to take a substantial snack and water to walk further than we intended.
We are also careful about shoes. Nothing ruins a good walk like hurting feet. Hurting feels usually means blisters. Because my husband is a diabetic and can't always feel the sore spots, he checks his feet at night for blisters. Some moleskin can prevent a debilitating blister if there is a sore spot.
Because almost every cell in our body needs water to function, we must constantly replenish our body's supply.
We passed people on the trails riding bikes, pushing babies in strollers, running, and walking fast and slow. Finally, at mile marker nine on Decker's Creek Trail, we met Dave, who sold refreshments at a homemade stand behind his house facing the trail. Across the path were a swing and picnic tables under a covered shelter to sit, rest, and chat with Dave if you wanted to.
If you are willing to carry a camera with you, there are endless opportunities for photos. Some people like to walk and count the miles or the hours. My camera helps me to slow down and enjoy the trail.