Under The Same Sky
Previous Story
Next Story
Our daughter, Christy, said she stood on a pier looking into the Black Sea. "I understood that if I wanted to feel those waters, I should jump in at that moment. I knew the odds were I'd never get another chance. So I jumped in the freezing water with my clothes on and swam in the Black Sea."
The Black Sea is near Russia's recently bombed Odesa Opera house in Ukraine.
In 1994, she and seven other students from a Christian University in the U.S. volunteered to go to the National University in Poltava, Ukraine, to help set up the school's first Christian education program.
We were concerned because it had only been three years since Ukraine had officially declared itself independent from Russia on August 24, 1991.
"We went there to save the people of Ukraine, but it was us that came back changed because we saw strong, kind, courageous people living conditions and poverty that none of us had ever experienced.
One afternoon, she and her student guide, Natasha, walked along cobbled streets with her student guide. They passed empty grocery stores and doorways inhabited by armed soldiers.
"In my piety, I was there to "save" her… to bring God to her. To tell her Bible stories and show her the "way," she said.
Natasha looked at her, smiled, and said. "How am I to believe in a God that allows you to live as you do… and me to live as I do? Tell me that. and then you can talk to me of God."
They continued their walk in silence.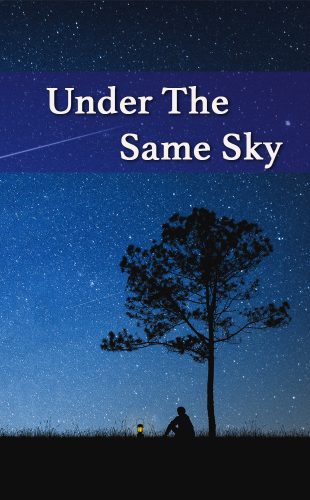 When she came home, she tried to give us a visual picture of how different the people's lives were in Russia.
"The food was very different," she said. The main staple was hard bread and fatty sausage. Large families survived in homes with only one bedroom (two bedrooms were considered a luxury), and dessert was a rare treat.
She told us the amazing thing was the citizens of Ukraine were honored to bring out their most expensive and delicious food for the American visitors.
In the six weeks she was there, she walked everywhere she went. When she came home, she had holes in the bottom of her tennis shoes.
One of her most humbling moments was a church service conducted in a church near ruins because of war bombings when the communist took over.
A small older woman took a piece of bread to the priest to pray over for her daughter, who was very ill. She believed that her daughter would eat the blessed bread and recover.
After the priest had prayed, the woman turned to Christy and the other American students and asked them to eat a piece of bread. When they asked why she said that the blessing would be even more incredible if an American ate a piece of bread because Americans are blessed.
At the end of the service, a 70-year-old man came forward. Forty years earlier, he had risked his life by taking a golden chalice from the church when the communist took over. They had destroyed the church and the people's freedom to worship. The man was so taken with the American visitors that he bowed to them.
He had bravely hidden the chalice in his home until 18 months earlier, when the breakup of the Soviet Union allowed Ukraine to become an independent country. Sitting in this church near ruins was the beautiful golden chalice.
The experience deepened our daughter's gratitude for the freedom and opportunities in the United States. We could see a difference in her when she came home.
One evening when we were taking a walk and watching the stars pop out one by one, she looked up at the night sky and said, "Mom, do you realize that the people in Russia gaze at these very same stars?"
I had never thought of that, but yes, they do, I said. "We think people are so different just because we come from different cultures, homes, and parts of the world," she said. But we are all blanketed by the same sky."
It is true, "We all live under the same sky, but we don't all have the same horizon," said Konrad Adenauer, the first Christian chancellor of the Federal Republic of Germany.
Adenauer was born in 1876 and lived through both the First and Second World Wars. He wanted to lead Germany into a future of peace. This quote describes inequality because of certain political and economic circumstances that push the horizon further away.
Everyone on this planet lives under the same sky, with the same sun to light up our days and the same moon to shine light in the darkness of night. But figuratively, Adenauer was saying the citizens of East and West Germany don't share the same horizon as the citizens of the world today.
We take our country and freedom for granted. We can pray for Ukraine and help however we can, but we cannot comprehend their lives.
Natasha, our daughter's Ukrainian friend, came to America to visit when she walked into the grocery store and looked at all the food when she became tearfully overwhelmed.
Hearing the song, God Bless America, always brings tears to my eyes. When Irvin Berlin was five years old, his family arrived in the United States, having fled anti-Semitic persecution in Russia. He became a citizen in 1918, the same year he started his military career and wrote "God Bless America, Land That I Love."
My prayer today: "Stand Beside Her and Guide Her Through the Night with the Light From Above."