Looking in the Mirror
Previous Story
Next Story
A curious mouse visited a carnival that was in town. Some tents contained attractions the likes of which he had never seen. The mouse entered one tent filled with thousands of mirrors in various shapes and sizes.
He ran from one to another, fascinated by all the curious mice smiling back at him. Finally, he thought, "This is a wonderful place, full of many happy mice. I will come here as often as possible."
As he left the tent, he came upon another mouse. "Guess what?" he exclaimed. "I'm not guessing anything. Whadda you want?" the other mouse snapped back. "I have just come from the most amazing place. You'll love it." "What's so special about it?" asked the other mouse. "Just see for yourself," replied the first mouse. "Trust me; you won't be disappointed. Go into that tent over there."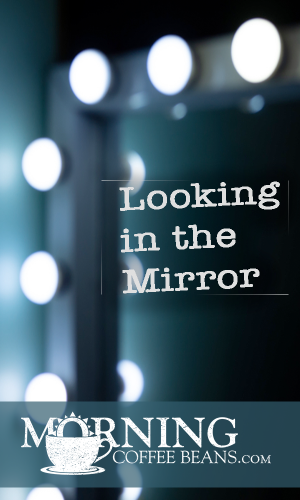 No sooner had the second mouse entered the tent of mirrors than something startled him, and he began to sneer, then growl. Everywhere he turned was a face glaring back at him; hideous, gnarly, scowling faces. "What an awful place this is," he muttered as he left the tent. "How cruel that mouse was to send me here."
The scared mouse ran from the carnival, cursing the first mouse for being devious. After that, every creature he passed along the way sneered and spat in his direction. He thought, "The world is filled with so much unpleasantness."
Yet, this wretched little mouse failed to realize that the world, like the mirrors in the tent, merely reflects at you what you give to it.
We've all met people with the same attitude as the little mouse. But, if we are honest, we might admit that we have had days like the grumpy little creature.
I have, and when I see my reflection in a mirror, I am reminded of something a doctor said to me long ago when I had just become a nurse.
We were both on call in the operating room. We had worked all night on one emergency case after another, and we still had to stay for our morning cases. Everyone was tired and ill, so I took it upon myself to cheer my co-workers up with encouraging words.
One of the nurses asked me how I could keep an upbeat attitude when things looked so bleak in the wee hours of the morning. I said, "I don't know; I just do."
The doctor with us said it was because I saw the glass half full instead of half empty. I was very young, and it was the first time someone had pointed out a positive trait in my life.
From that day on, I decided how I wanted to approach things. It feels better to acknowledge the best in something or someone. That doesn't mean you ignore the wrong items or accept people's bad behavior; it just means you deal with it and go on.
My sister-in-law was just the opposite. She said she always expected the worst in people and situations so she would not be disappointed. However, that meant she spent most of her life anticipating the worst and being around her was not always pleasant.
Seeing the glass half full isn't always easy, but it is possible. It is a matter of daily choices. If we pay attention, we will find that most people and situations we encounter reflect our same attitude, just like the little mouse looking into the mirrored glass.