Why is it so hard to receive a compliment?
Previous Story
Next Story
Why is it so hard to receive a compliment and just say thank you? Like many women when someone compliments me, I often feel the need to explain or tell them where I got whatever it is they are complimenting me on.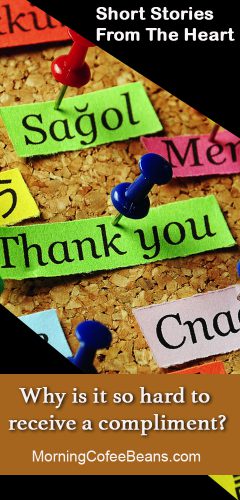 Recently, while at the doctor's office I complimented a young technician on her hair. "You have beautiful hair," I said. She responded, "It is hair extensions." I looked for a while and couldn't see any evidence of added hair so I said, "Wow, I can't see that. It all looks like your hair."
She stopped what she was doing and raised her beautiful black hair up and showed me how additional locks of hair was taped underneath her original hair. She said she went to her beautician and had it done and was due to a visit soon. "Wow," I say, "I would never have known."
As I sat there and watched her I thought about if you were going to do something to make your hair look thicker and beautiful, why not just say thank you. I said that to her and she flushed a little and said, "Thank you".
I know how she feels because I do that too. When someone compliments an item of clothing or something I find myself saying, "Oh, I got it at the store for a good price."
Sometimes when I try to compliment another woman on how she looks because she had lost weight or the way her clothes fit, she will often say, "Oh, no, I need to lose another 10 pounds," and if I say, "No, you look wonderful", they will continue to protest. Why?
Maybe it is because most of our compliments are about how someone looks. When in fact, we need someone to validate who we are or the way we behave. Come to think of it, when I compliment someone on their behavior or how they treat others, I usually get a sincere thank you.
If we are constantly complimenting our children on how pretty, cute or adorable they are then that is what they work on the most. Whereas, if we compliment them on their behavior that is a way to lift them up.
Yes, we want to hear that we look good but even more so, we want to hear that what we do in our lives, our homes, our work, and our world is of value. And so do the people in our lives because feeling valued and appreciated is a basic human need.
I find that when I compliment my grandchildren for helping or doing something they have not been asked to do that they do act more responsibly. When I compliment my husband, he stands a little taller and glows a little. Compliments aren't just for the receivers; they also benefit the giver. My children always look at me funny when I compliment strangers in the grocery store or people I meet along the way.
But the truth is, compliments make us feel good, both giving and receiving. It is a proven fact that being generous with giving sincere compliments helps us notice and appreciate what's good and what we like in those around us.
How can we accept those compliments that we are fortunate enough to receive in our lives? A sincere "Thank you," or "I appreciate your kind words," will do.