Why it's Important to Show Kindness
Previous Story
Next Story
I recently read a story about a man who bought a brand-new car with an area in the back to accommodate his large, furry dog. Then, not too long after purchasing the car, he had it washed in an upscale, expensive car wash.
Afterward, however, the man noticed that the back portion of the car was still filled with dog hair. He felt ripped off because he had paid a significant sum for the wash and became upset. He complained to the staff but to no avail.
They restated their policy was to "not vacuum the trunk." Obviously, they considered his "dog space" a trunk and, therefore, refused to do the extra work.
When it became apparent that his complaints wouldn't help, he demanded to see the manager. But instead, he spent the next five minutes yelling at the car wash manager in what he described as a harsh, obnoxious, and arrogant tone.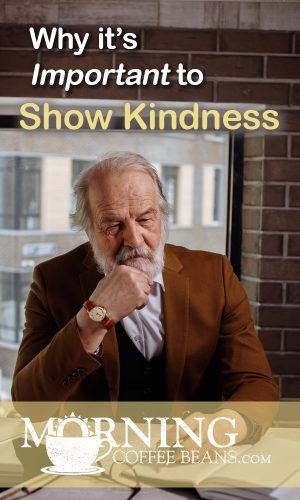 When he finished yelling, the manager looked him in the eye and asked the man if he was finished with a gentle, undefensive tone. He said that he was.
The manager then told the customer in a calm, unthreatening tone that he would go ahead and vacuum the car himself until every dog hair was gone.
Then in a compassionate but firm voice, he said, "I have to ask you one question, sir." "What is it?" The man replied, still angry. "What makes you think you have the right to speak to me or anyone in that harsh, demanding manner?"
The manager could have easily justified being rude to the man, but he chose not to do that. And we have that choice every day, too.
Labor Day is when towns across the United States enjoy parades, picnics, barbecues, fireworks displays, and other public gatherings. It is also a time to honor U.S. workers' contributions to the strength and prosperity of our country.
However, many people in the service industry do not feel appreciated. For example, my niece recently wrote on FB, "Please be nice to those in the service industry. We're burnt out."
When I asked her what was causing the stress and burnout, she replied, "Our store has been understaffed, mainly because employees have been sick. We do our best to keep up, but it's constantly overwhelming between people placing orders through the drive-thru, in the cafe, and on the app."
"On top of that, customers get frustrated with us for so many silly reasons," she said. "Whether that be an error on their order, or us being out of a product. It's extremely belittling to be talked down to and treated rudely when the odds are stacked against us as service workers."
Around 80 percent of survey respondents working in hospitality feel burned out. Their job responsibilities, high turnover rates in the industry itself, and relatively low earnings may also add to the emotional pressure of working as a server, cook, or restaurant manager, among other jobs. It can be tough on people's mental health.
Understanding that we are responsible for our behavior and choices, regardless of those around us, gives us much more control and peace in our lives.
The celebration of American workers on Labor Day didn't begin as a benevolent act by the government. Instead, it began with a heated campaign by railroad workers in the late 19th century to win support and recognition for their contributions.
The first Labor Day Celebration was Tuesday, September 5, 1882, in New York City. Then, in July 1894, President Grover Cleveland finally signed into law legislation creating a national Labor Day holiday in early September–even as federal troops in Chicago brutally crushed a strike by railroad and Pullman sleeping car company workers.
The Uniform Monday Holiday Act of 1968 changed several holidays to ensure Labor Day would always be observed on Mondays so those federal employees could have more three-day weekends.
I spoke to a person in Walmart last week who told me that not having enough employees makes it hard on the ones working. Workers who couldn't be laid off could not receive the additional unemployment income provided by the federal government. Most of them have worked through the fear of the pandemic because they couldn't afford to quit.
Now job vacancies have soared to nearly 15 million by mid-March of this year, but they are not yet being filled. There may be many reasons why people are not yet returning to work. Some may be the generosity of unemployment benefits, and stimulus payments have some workers avoiding returning to work because they make more not working. Other reasons could be child care, covid health concerns, picking the right job, or relocation.
As people find their way back to work and all those who have worked through the Pandemic, it is important to show kindness and be thankful for each other. Words are powerful. Words have the energy and power to help, heal, hurt, harm, humiliate, and humble. The words we choose and how we use them can build others up or tear them down, bring the community together or rip it apart.
The book of Proverbs is a great resource for understanding how important words are in life. Proverbs 15: NIV. A gentle answer turns away wrath, but a harsh word stirs up anger.
The man in the car-wash story said he never again treated anyone that badly or with so little respect. "Even when I have been justifiably angry or disappointed, I realize that I am still responsible for my behavior and how I treat others," the man said.