Winter Blues
Previous Story
Next Story
I found a plush, warm, gray sweater that seemed to wrap itself around me with deep pockets and tried it on. It felt so good, but when I looked into the mirror, I saw my husband behind me shake his head no. "No?" I asked. "Why not?"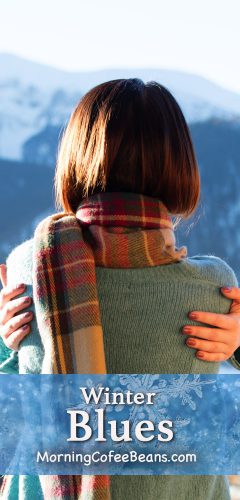 "Because it's gray, and you've had a lot of gray days lately," he said. He was right. The winter days have been rainy, dark, and cold, which has affected my mood.
I have to admit; I have a love-hate relationship with winter. I love the cold air when I breathe it in and out of my lungs. I love warm sweaters and gloves, snow on the ground, a fire in the fireplace, hot chocolate, and soup. My husband says I have an obsession with soup in the winter.
What I hate about winter is the lack of sunshine. I do well if it is cold and the sun is shining, but when one day turns into many without sun, I get restless and, yes, moody.
Less light in the winter makes many of us feel sluggish, irritable, and just plain "out of whack." That's called the "winter blues." About 4-6% of the world population suffers from the" winter blues," but another 10 to 20 percent suffer from Seasonal Affective Disorder (SAD).
SAD, which is more common in women than men, is a type of depression related to changes in seasons. It begins and ends at about the same time every year. However, if you're like most people with SAD, symptoms start in the fall and continue into the winter months, sapping your energy and making you feel moody, anxious, lonely, and irritable.
Sunshine, exercise, social interaction, and eating right are the best antidotes to the winter blues. People who suffer from severe SAD often use Light Therapy Lamps to ease the symptoms, increase their energy levels, and feel better about themselves and life. But they probably won't cure the seasonal affective disorder.
My friend Becky uses light to help her with dark days. "I keep my Christmas tree up for a long time and turn the lights on every day for hours," she said. "It brightens the room and my mood. I also sit in my bright sunroom with the heater on full blast with a cover over me. It's my Happy Place."
Happiness can also be found in exercise during the winter because it acts as an excellent antidepressant by releasing "feel good" endorphins.
It doesn't have to be anything significant; just a short walk each day helps you cope.
If you can join a gym, it not only gives you a place to exercise but it provides a social life. Interacting with other people keeps us from becoming isolated.
When we feel connected to others, we have lower rates of anxiety and depression. "Thinking about what we can do for others is the best way to cope and get your mind off yourself," said my friend, who is a dietitian at a local hospital.
She also suggests that eating right plays a significant role in fighting off the winter doldrums. "Sometimes our comfort foods can be high in calories and cause unwanted weight gain," she said. "Choosing to eat healthier foods, including five fruits and vegetables a day in place of the high fat/ high sugary foods, will have many positive benefits, including what's needed to fight those winter blues."
The good thing about my husband not liking that warm cozy gray sweater I tried on is that I asked him to pick out some colors he wanted, and suddenly I had a little shopping spree that turned my gray mood into a bit of sunshine.